STONED JUST FROM LISTENING
When he was a youngster, he told his parents that he wanted to learn turntablism. His father's reply: Go get my old trombone and start learning to play that one. "It took some time, but I bought my own equipment. Nevertheless my parents are very supportive", says Ol' Dirty Basquiat aka Simon Lunkenheimer. And it's true, how parents are indeed very supportive. We at TISSUE know that, because we experienced it ourselves while working on our print issue TISSUE N°666FFF. Fun fact: Simon's parents run their traditional winery "Weingut Ewald Lunkenheimer" in the secluded countryside of Nahe Valley. When the idea of an exclusive TISSUE grape juice came up, they immediately helped us out with producing the badge. (You're into juicy stuff? The edition will be available here soon.)
It seems that the love for plants is running in the Lunkenheimer family. While Ol' Dirty Basquiat's parents were probably taking care of their babies in the vineyards, their son was cooking up an outstanding contribution to TISSUE's 4/20 celebration taking place this month. Yes, that's right: The celebration of our favorite herbal remedy is lasting not only one day, but whole April long.
For his mixtape, Ol' Dirty Basquiat put together a dubby blend of Jungle, Breaks and a few "not too well-known smoker hymns". Besides talking green stuff, we also spoke to him about his thoughts on the idea of the medium being the message and what DIY-culture means to him.

INTERVIEW: NADJA PREYER
COVER ARTWORK: ANNA HOFMANN
PORTRAIT: TATIANA VDOVENKO

When and how did you become involved with DJing?
I used to rap a lot when I was around 16 and was still living in my hometown. Back then, I had a crush on Ruffneck Jungle Tunes, which rested for a while, as I was mostly listening to Music coming from Def Jux, Anticon and the likes. But growing up and meeting different people, I actually started DJing with a good friend who today is a vinyl addict since about 25 years. We played Grooves, Dubs and Krautrock at small-sized open air raves in 2016/17. When I eventually moved to Offenbach, I started attending more and more raves. Probably a turning point for me was this big thing at an abandoned car dealers place called "Oststern". Hotel International was hosting it and I had like an epiphany while Slyngshot and Oko DJ were playing. This and the ZSA ZSA festival with Rio's genre bending set really sparked a flame to get involved (again). After I organized two Jams under the Name "Flying Saucer – outernationally known", I knew I wanted to do a lot more DJing myself.
You met Uwe while working on TISSUE N°666FFF. How did you meet and what was your part?
Actually I met Uwe two or three years before in Schaffhausen Switzerland through mutual friends. Working together on the magazine started when Uwe set up the workshop at Hochschule für Gestaltung Offenbach. I did editorial work in the text department, executive editing and so on. I arranged articles, communicated with contributors. Tip if you work with Uwe: Keep him supplied with gum drops and jelly, haha.

»I had this megalomanic plan to get everybody stoned just from listening.«
How did you come up with your name, Ol' Dirty Basquiat?
There was a time when everybody came up with this funny referenced names. People were playing a different moniker every other week. Someday it just struck me… I also play as DJ Stelze, another funny name referencing my legs, because Stelze means stilt. A friend once said that this would have been my nickname if I was a punk.
How did you proceed choosing the music for your mix?
I had this megalomanic plan to get everybody stoned just from listening. To make our parents remember Woodstock and the youngins think of Kush Aliens (a song by Terrance Escobar, editor's note). But in the end, that would have rather turned out to be something like a "Best of Stoner Music" Spotify playlist and that was not the plan. So I chose some records out of my Jungle and Breaks collection and then worked my way from there. Also included are a couple of not too well-known stoner hymns. The rest is sound and smoke.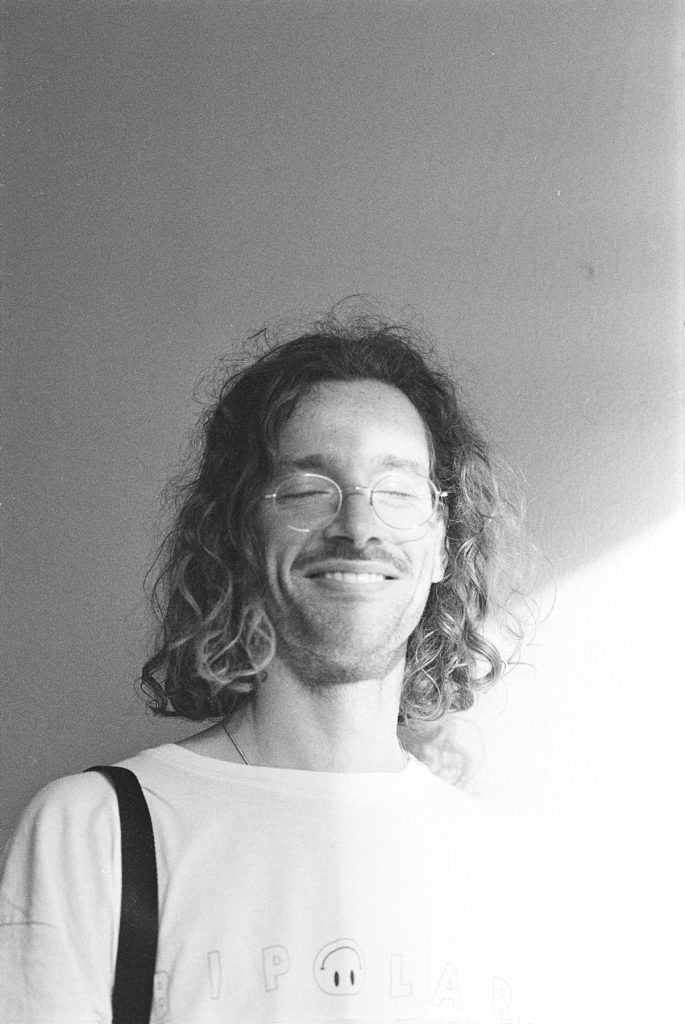 You said you played DIY gigs in Offenbach "when it was still possible". What has changed?
We would go to bar or café owners and tell them we want to play at their bar. I mean places that by far don't have a proper system. Or we would play house parties and the occasional vernissage that turned out wilder than planned. I always thought it's important that there's no or at least a low entrance fee, so we could be as barrier free as possible. The plan was also to do small open airs this season. Unfortunately this is all not possible at the moment.
And what makes such gigs DIY-ish?
To me, the DIY aspect also means that it comes with the struggle to maintain freedom and possibilities, including the commitment of trying to not work for "the man". This is something that probably everything that influences me has in common: An independent drive and a sort of integrity that is not only "professional" in a bureaucratic sense. To me something like TISSUE Magazine, YAPPIN' records or Sportsbanger represents this spirit.
You are studying Ästhetik in Offenbach. How would you say can visual and sonic aesthetics be linked? And how are you combining both for yourself as an artist?
This is a tough question. I think they are inherently linked, as they are a compartment of mostly every aesthetic event or experience. But I think there's no way of describing that in a scientific sense. Of course you can always compare structures, formalisms, relations and so on, but in the end, you will get to a point where you probably need to argue why blue is blue and why or even if a "warm sound" is actually warm or only perceived as warm. Think about blue not only being a color, but also a feeling. There are a lot of metaphors. A lot of them are very, very, VERY worn out, like the flowing river in Smetana's Moldau. Now listen to Croatian Armor for example, I bet you will have a harder time finding metaphors that fit properly and it will even be harder to find someone who had the same associations as you. Starting to give a TedTalk here, sorry. To cut it short: To me, the possibility of combination is, at least in theory, limitless. And this is where a lot of innovation comes from.
With your above-mentioned DJ Stelze moniker, you're going on tour with Nepumuk. His music is heading into the direction of Conscious Rap. Would you say there's still too much discriminating crap rap out there?
Nepumuk and me both confirm, but don't approve that there is too much discriminating crap rap out there! Nevertheless, "conscious" still reads as a diss to a lot of people. Nepumuk and DJ Stelze try to practice consciousness without the condescending aura of pseudo-enlightment.
What kind of rap are you listening to when you're not on stage with Nepumuk?
Friends always used to say that I like "weirdo rap", which was and is an apt description. I used to listen to a lot of Conscious Leftfield Rap like Eyedea, Sole, Sage Francis. Also had a huge Shawn Kemp/Lil Ugly Mane phase. But these days, I listen to more classic Native Tongues stuff and the likes.

»The freedom of choosing your medium comes comes with a lot of privilege.«
Speaking of vinyl vs. digital from the DJ perspective: Any thoughts on McLuhan's famous sentence "The medium is the message"?
I think the freedom of choosing your medium comes with a lot of privilege. Vinyl is expensive and sometimes even too rare to get. The maintenance of a lot of (physical or analogue) equipment is not a cheap thing either. So I think everybody has the right for a bit of pragmatism. For a long time I played anything. From (shitty) controllers via PA mixers with two cell phones to Serato vinyl back to better controllers and real vinyl.
What one should consider is the part where your audience might suffer. If you play anything bigger than a guitar amp, get proper mp3's, maybe even FLAC's. Do not play bad rips, please.
What's up next on your schedule as ODB and Stelze? Any mix contributions/gigs planned?
Until further notice all physical gigs are cancelled. But I am still (!) planning on a more organic mix for Mixcloud.com/Saft. It is hosted by a friend and he refused a mix I did, because the mix was too wild. Anyway he liked the selection, called it eclectic 🙂
What are you probably gonna do on 4/20?
Maybe bake a special cake? Who knows …

TRACKLIST:
Blazin Up – Supa Sortahuman feat. Lil Ugly Mane
Get this Number – Agents of Rush
Can't Handle the Streets (Fear Mix 2) – Ganja Cru
Prisoner – Substance
X-Files – Dream Team
Ready fi dem – Orson Wells
Smoke the Sensi (Jungle Mix) – Top Cat
Here I come (Jungle) – Ridley Don
Torn – Omni Trio
Rinse Out – DJ Hype & Ganja Max
Steppas Anthem (Linerz Remix) – Rude Bwoy Monty
Ganjaplant – Dread & the Baldhead
Ganjaman – Krome & Time
Everyday Struggle VIP – DJ RASHAD
Ice Cold – Kenny Ken
Space Starter Dub – Fufi.SNC
Roll with the Punches – Peverelist
Purple Thang – Koopsta Knicca
Alien Creed – Omni Trio
Rides to the Unknown Pin Riddim (nostalgic mix)
Xultation – Cosmo & Dibs
Dumb You in a Rivah – Shawn Kemp
Bitches on my Jock – Prophet Posse
Pain (Instrumental) – BSBD
Subtractive Skys – Steve Hauschildt
Black Outs – Ash Ra

Introduction jingle by Harmony Horizon
Please note: Big servers and streamed data are eating up energy. And our planet. So do the world a favor: Download the mix and play it on your own device. Keep mother earth alive. Thank you.