Dinosaurs and The Craze
It didn't turn out exactly how young Lennard Poschmann imagined his life as a grown up: As a kid, he wanted to become an archaeologist and dig for dinosaurs. Even though he's not hunting for something that's millions of years old, still O-Wells is on a constant treasure hunt – for records.
One of the styles that got the Berlin-based artist hooked was a genre that went down in history sometime mid 80s as acid house. Originating from Chicago and mainly invented by the trio Phuture, the style made it's way to Europe end of 1980. To be precise, in 1987 London club Shoom introduced the new style and acid house took off with huge warehouse raves that shaped the movements dreamy alias: second summer of love. Imagine thousands of teenagers dancing in reflective vests and blowing whistles to a big beat, clenching their jaws until the sun comes up behind hay rolls somewhere in the UK countryside. It's not a surprise that another moniker for acid house was 'the craze' – a term used by UK media to describe that euphoria of a whole new generation.
Time warp to 2011: That's when O-Wells experienced just that kind of euphoria by getting into that thing called acid. Besides playing and producing music, he was channeling the excitement by organizing parties together with this friends Emil Seidel (aka DJ Disrespect) and Benjamin Milz in their hometown Frankfurt am Main. In 2022 though, Lennard Poschmann isn't really known for playing or producing acid housey stuff. Of course the influence is still noticeable, but it's rather breaks, electro and jungle as well as detroit-influenced techno that grab his attention both as producer and DJ. Or wait a second … listening to his TISSUE Mixtape, do we feel a little nod to acid house? Okay, it's rather progressive house, nu-breaks and trancey vibes. But eventually, it's not a secret that the dinosaurs who invented it first were born in Chicago.
INTERVIEW: NADJA PREYER
PHOTOGRAPHY: PAULINE SCHEY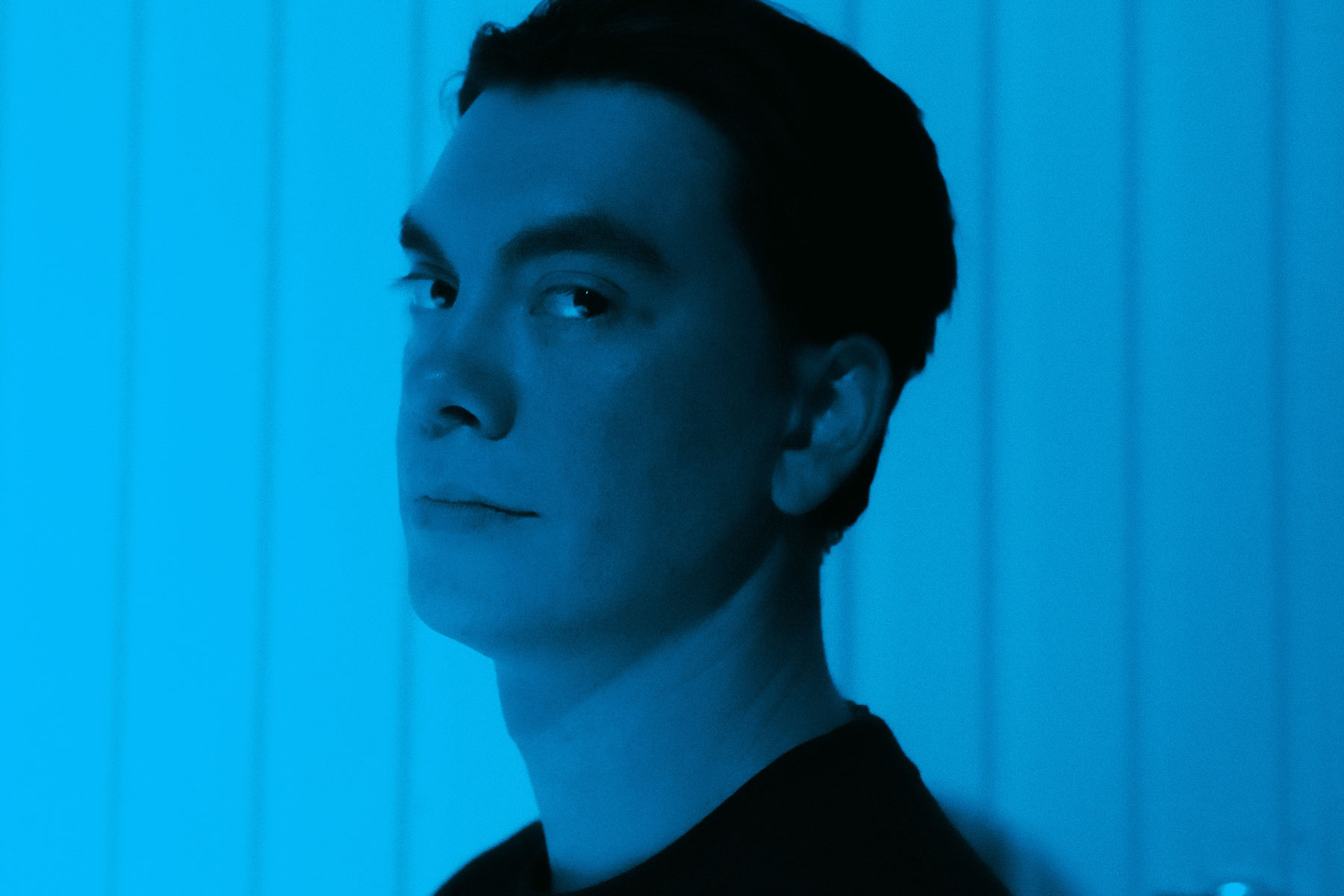 One of your monikers is Frankfurt Bass. Where exactly in the Rhein-Main metropolitan area did you grow up and how did you come up with that project?
I grew up in the district Sachsenhausen which is pretty central. I'm something like a 5th gen native, so my family told me a lot of storys about the city's history. That I think had quite an impact on me and got me highly interested in Frankfurt's musical history, which is pretty rich, especially when it comes to house and techno. The Frankfurt Bass project is an homage to the detroit jit sound and is inspired by projects like Sole Tech and Hydraulic Records. A lot of records from Detroit are actively repping their city, so I kind of wanted to incorporate that with my Frankfurt Bass project.
Eventually, you moved to Berlin. What made you pick this city?
I moved to Berlin with my girlfriend, she grew up here. We met in Frankfurt, but after living in that city for 26 years I really had to see something else. She also wanted to move and since we already had a lot of friends in Berlin it was an easy choice. 
"Frankfurt influenced me in a sense of keeping things a bit quiet, not pushing things on people all the time."
How has Frankfurt shaped your state of mind?
I think that although there are a lot of people in Frankfurt who are doing great things which are recognized internationally, it always stays a bit under the radar. Artists and their work are just not so pr-driven like those working in citys like Berlin, Amsterdam, London and New York. So maybe Frankfurt influenced me in a sense of keeping things a bit "quiet", not pushing things on people all the time and rather letting my stuff be found organically. Not sure if that's the best way to go in these times though.
Who's your favorite producer at the moment and what makes their productions so special to you?
I really enjoy Sansibar's releases at the moment. The way he places his drums and synths is always on point.
Your TISSUE Mixtape is highly energetic and sounds like a reflection of a proggy and breaks-infused club night out. How did you deal with the past two years of fragmental club experiences?
It hit me pretty hard at first because there were a lot of great gigs and projects planned throughout 2020 that kind of got lost in the past two years. The year 2020 had something like a "breakout year" feel to it. I'm studying besides music, so that took my mind off of things a bit. Creatively, I used the time to get better at producing and thinking more about where I wanted to take my sound to and refine everything. Financially it sure was a struggle at first. But luckily I found a job which eventually got me enough of an income to focus on university and music, while still having enough time left for both. But what probably helped me the most during this time was not being alone, being with my girlfriend, meeting with friends. Also getting two kitties definitely was a big plus! 
"Try to learn about your references and influences and treat them with respect."
With having several aliases, how do you feel about the question of "having a style" — speaking of both as a DJ and producer?
I think one's style always comes out at some point if you are sincere about your craft, because you will put your character into it and it will speak to others. Please don't be afraid to do things that sound good to you which might not be trendy at the moment. Try to learn about your references and influences and treat them with respect. I think if you do it that way, something good will come out as a result.
What's planned in 2022 for you?
There is a 12" scheduled on the label Die Orakel which will be out soon. I'm also starting to play live which is pretty exciting for me. Also, I'm working on a label project which I hope will be ready to start this year.
You're also into ambient. Which albums are you enjoying a lot and why?
I often listen to Susumu Yokota's Sakura album as well as to Isolée's release called Rest. Both have this elegant sound to them wich I really admire.
"Try to learn about your references and influences and treat them with respect."
… it can convey messages that break language and cultural barriers.
Stream: https://soundcloud.com/tissue-magazine/mixtape-93-by-o-wells
Digital cover artwork by Daryan Knoblauch —
see the full story "Kristall" here: https://tissuemagazine.com/story/daryan-knoblauch-kristall/
Introduction jingle by Harmony Horizon
Visitez:
https://soundcloud.com/o-wells-frankfurtbass
https://orsonwells.bandcamp.com
https://www.instagram.com/frankfurtbass/
×
ONE OF OUR FAVOURITE
RECORDS BACK IN 2017: