Transhuman transmissions
How does our surrounding influence the art we make? And, speaking explicitly of music producers, does their environment affect the way they tweak and turn the knobs of their machines? You would probably answer with a yes after listening to Volruptus' extra-terrestrial Electro and alien-ish Techno and hearing about the fact, that he's originally hailing from Iceland. Volruptus was growing up in the picture book setting of your dreams. Fire, Ice and Techno. A cragged scenery made up of splashing geysirs, foggy cliffs, ponies and moss, moss, moss. To be precise about his point of origin, let's put it in his own words: '101 Reykjavik, baby!'
Even though the producer moved to Berlin in 2014, it seems he took the inspiration making up his aesthetics with him. So far, the 28-year-old released three EPs and two albums, of which First Contact is the second that has been out since end of March this year. An LP release, right in the midst of lockdown? Not an easy thing for a musician. To the question, if the current situation had an influence on his mix, which appears pretty pushing and forward, he says: 'I do miss dancing and playing in the club. But I think the mix would have turned out the same regardless.'
This consistency is shining through in Volruptus' general approach on making music. Dropping out of his studies of natural sciences back in the days in order to start an audio engineering apprenticeship? Sure thing. Today, he's also taking care of his own visuals, like for the full album stream of First Contact. Besides operating solo, Volruptus is part of 3Ddancer. A modular-synth-driven threesome (ugh, sexy) made up of him, Alex The Fairy and Rachel Lyn. Together, the trio is doing freestyle live performances, blending Electro and not your average Techno with Industrial, EBM and Hardcore influences. If you'll ever have the chance to catch them live (hopefully in the near future), go for it. Until then: Enjoy some trans-human transmissions from home with Mixtape 77.

INTERVIEW: NADJA PREYER

Iceland is a pretty small country, which usually goes along with a pretty intimate music bubble. How did you get into the local rave scene?
There was this D'n'B and dubstep scene back in the days. My friend Hypno, who now goes by the name DJ Allskynz, was djing these parties – even though he was only 16, just like me. So I'd show up before the bouncers would to make sure to get into the club and join his gigs. I think that was how I got into clubbing, but I had been listening to Electronic Music already before that.
For First Contact you produced a video with your own visuals. How did you get into that?
My friend had this old camera and I borrowed it, just to try out some video feedback. In the end, I thought it was so cool that I just had to make a music video out of it. So I guess the reason I did it was just curiosity and in the end I used the visuals, cause I thought they look really incredible.

'I'd say we still have a chance for some Star Trek-style utopian future.'

You describe your sound as "unruly and groovy, sneaky and freaky". Does your futuristic approach derive from the fact, that humans are one big catastrophe? Do you feel a longing to transcend the earthly sphere?
I always wanted to become an astronaut growing up, still I feel fine on earth. I'm not sure if I would want to live anywhere else if I could. Seeing other worlds would be cool though. I'm not sure if I agree about humans being a catastrophe. But I'm pretty sure most type of civilizations in the universe take a toll on their planet. I'd say we still have a chance for some Star-Trek-style utopian future. But if nothing's going to change, then I guess we are indeed pretty catastrophic as a species.
How did you and your 3Ddancer colleagues Alex The Fairy and Rachel Lyn meet? And how was it to play a full night at Berghain's Säule at CTM Festival back in January?
I guess we all met kind of randomly. We were and are still all into modulars, so we decided to link them up and jam together and we liked it a lot! We're all responsible for the patches we make when playing live, but at the same time it's supposed to be kind of a a free thing for all of us. The set at Säule was fun! And exhausting [laughs]. But yeah, in the end it's all about fun. We try not to be too serious about it.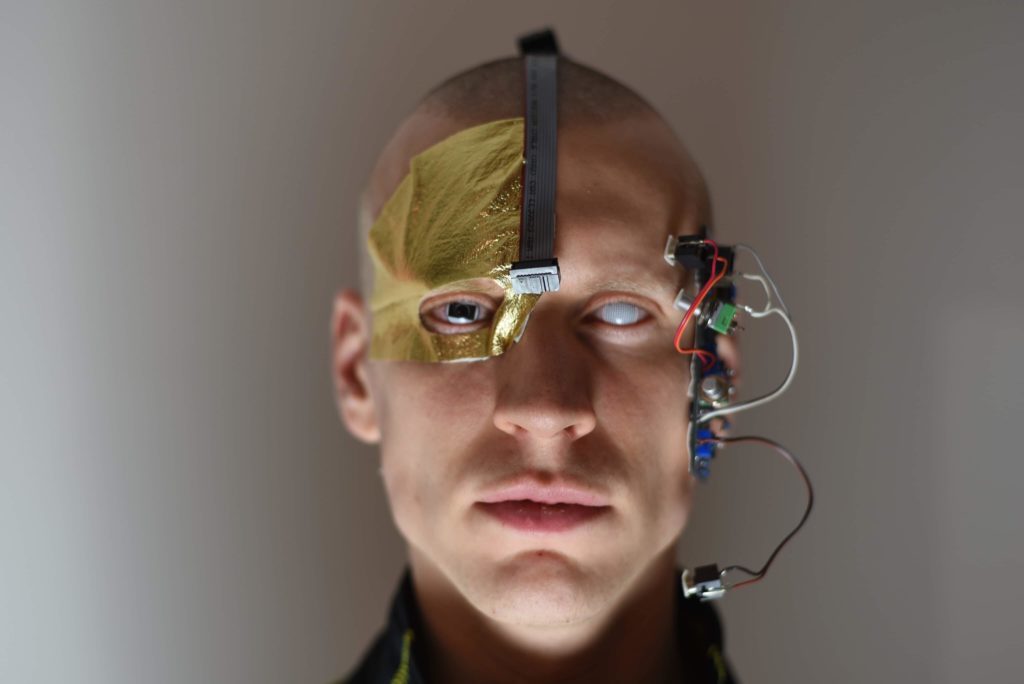 You seem to love everything futuristic. Are you also a fan of Sci-Fi literature or movies? Any recommendations?
Star Trek, especially Next Generation. Robocop, Total Recall and of course Terminator 1 and 2. Andromeda Strain, Upgrade – and of course Alien. These are some of my favorite movies off the top of my head. Concerning literature, it's been a while since I consumed any fiction by reading to be honest. Too much ADHD, I guess (laughs).
Volruptus has a signature sound. Did that happen naturally? And what's your vision for the future sound of Volruptus?
I would say it just happened. I think the less you think about it, the better it turns out in the end. I think a sound will always become a signature sound, because every choice you make, it's you who makes it. About my future sound, I don't have a clear vision. Only time will tell.
You're working with modular synths. What's fascinating you most about them?
The endless possibilities.

'Rave culture is punk as fuck.'

What are your thoughts on Artificial Intelligence? Do you think humans and machines are going to make love in the future?
(Laughs) Already now there are people fucking their sex robots, so yes. I wouldn't be surprised if strong AI would need organic components and sensory organs to become a reality in the future. In this case, human-like androids who are fully functional and very close to us humans would become mainstream then I guess.
Do you believe in alien life forms?
Of course.
Even though your music isn't punk as a genre, in the end it does have a punk attitude. Would you agree on this?
Yes. Rave culture is punk as fuck.
A life without Acid: what would you do?
I would probably be a Trip Hop producer.
Which Iceland spots would you recommend our readers to visit?
I always go there around Christmas. I recommend the swimming pools in Reykjavík and there are also tons of waterfalls and beautiful spots outside of Reykjavík. But before going, keep in mind that there's a whole industry trying to make sure you go see them all and spend money in the giftshop!
What are you working on right now? What can we expect coming after First Contact? Any special projects, maybe also visual ones (especially in these digitally driven times?)
There's a collaboration EP with none other than Jensen Interceptor scheduled and more EPs and a big releases about to be released by 3dDancer. Wooohooo!


Listen to Volruptus' second album First Contact, released March 27 via bbbbbb recors, below.
TRACKLIST:
1. Salome – Internet Ghost
2. Kuldaboli – Geðveiki of Brjálæði (Polar Attraction Remix)
3. Kancheli – Japanese Morning (Volruptus Remix)
4. Volruptus – ???
5. Polar Attraction – Choose your Vessel
6. Bjarki – Psyhestur (BRX)
7. Volruptus & Jensen Interceptor – Alien Realm
8. Kuldaboli – Sálinni blæðir út
9. Jensen Interceptor – Fuck Scomo
10. Andartak – Untitiled 5
11. Volruptus – Man in the Moon
12. Polar Attraction – Middle of Nowhere

Introduction jingle by Harmony Horizon
Please note: Big servers and streamed data are eating up energy. And our planet. So do the world a favor: Download the mix and play it on your own device. Keep mother earth alive. Thank you.

Visitez:
https://soundcloud.com/volruptus
https://3ddancer.bandcamp.com/