Trees green, sounds dark
Birds singing, kids yelling, spacious front gardens and cute single family houses next to plush mansions. Visiting Space Drum Meditation being at it in their Hamburg studio, one notices an uncanny contrast of the calm and friendly neighbourhood to the twisted and peculiar sounds that are coming through the monitor speakers.
When entering Eddie Ness's and Liem's sacred studio realms, it's not only the fizzy sounds of their favorite drink – a fresh and fruity apple spritzer – that's passing your cochlea. Floating through their humbly sized room with a view onto green trees are rattling percussions, woody congas and broken downtempo snakelike beat patterns. Add some deep and dark alienated vocal bits and here you go: not really the soundtrack of children playing underneath an apple tree.
But the duo's stuff hasn't always been sounding that sinister. With their first releases like "Metronic Disco Fever" on Lehult, another label they started with three close pals five years ago, Eddie and Liem were able to live out their more playful and housey side, before they developed a more darker bias with their own imprint.
As Space Drum Meditation, they released a tape and two EPs so far. Not a huge discography yet, but there's already a golden thread running through everything the duo is creating. Not only sound-wise, but also visually. And actually, if you compare their TISSUE Magazine Mixtape to their self-released tracks, it seems like they're already there.

INTERVIEW: NADJA PREYER
COVER ART: HELGA GOETZE
PORTRAIT: NILS HANSEN

When exactly did you start Space Drum Meditation?
Back in December 2017, so almost exactly two years ago. We had a 17 track tape coming out on Lehult back then. Six months later, our first EP followed on Space Drum Meditation.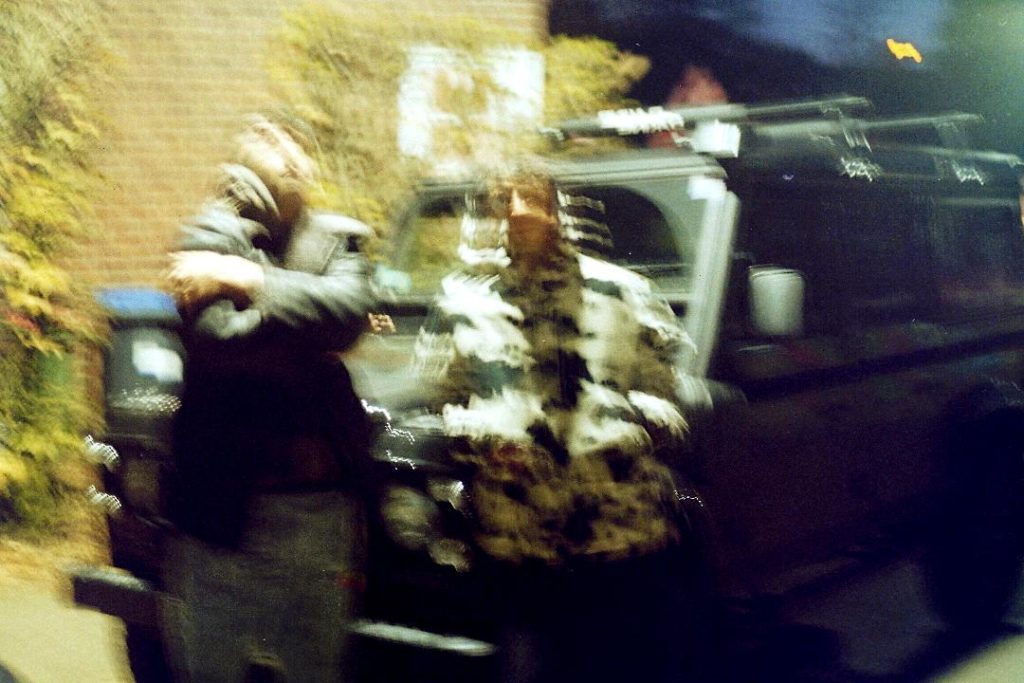 Before you moved in to you current studio space, you had another one in a totally different location. How would you say did this change effect your music?
Our first studio was located above a night club in an urban environment. Now, a few months ago, we moved into our studio a bit outside, more in the suburbs of Hamburg. That change from a really busy surrounding to a more calm and less energized and inspired us. It gave us a whole new approach.
And is there also something that stayed the same?
We are still surrounded by friends who also have their studio in the same buliding. We really enjoy that vibe, that we already experienced in our old studio.

»It feels good to have everything under control and make it sound and look exactly like we imagine.«
Which steps of the label work are you taking care of yourself? And what is it you're outsourcing for practical reasons?
Except for mastering, distribution and pressing we basically do everything on our own. It feels good to have everything under control and make it sound and look exactly like we imagine.
Who is it that mysterious vocalist who we can hear when listening to your track "Grapes" from your last release?
The guy is called Messia Messiahs. We met him at our old studio, when a friend brought him to hang out. Since that day, he's joining our sessions regularly. He's a big talent and we really think of this collaboration as a fruitful connection, which you can already hear when listening to "Grapes". We discovered this mixture of our dark downtempo grooves and his lyrics and outstanding voice to be a really nice match. So we're happy that Messiah will again be part of our next record coming early 2020.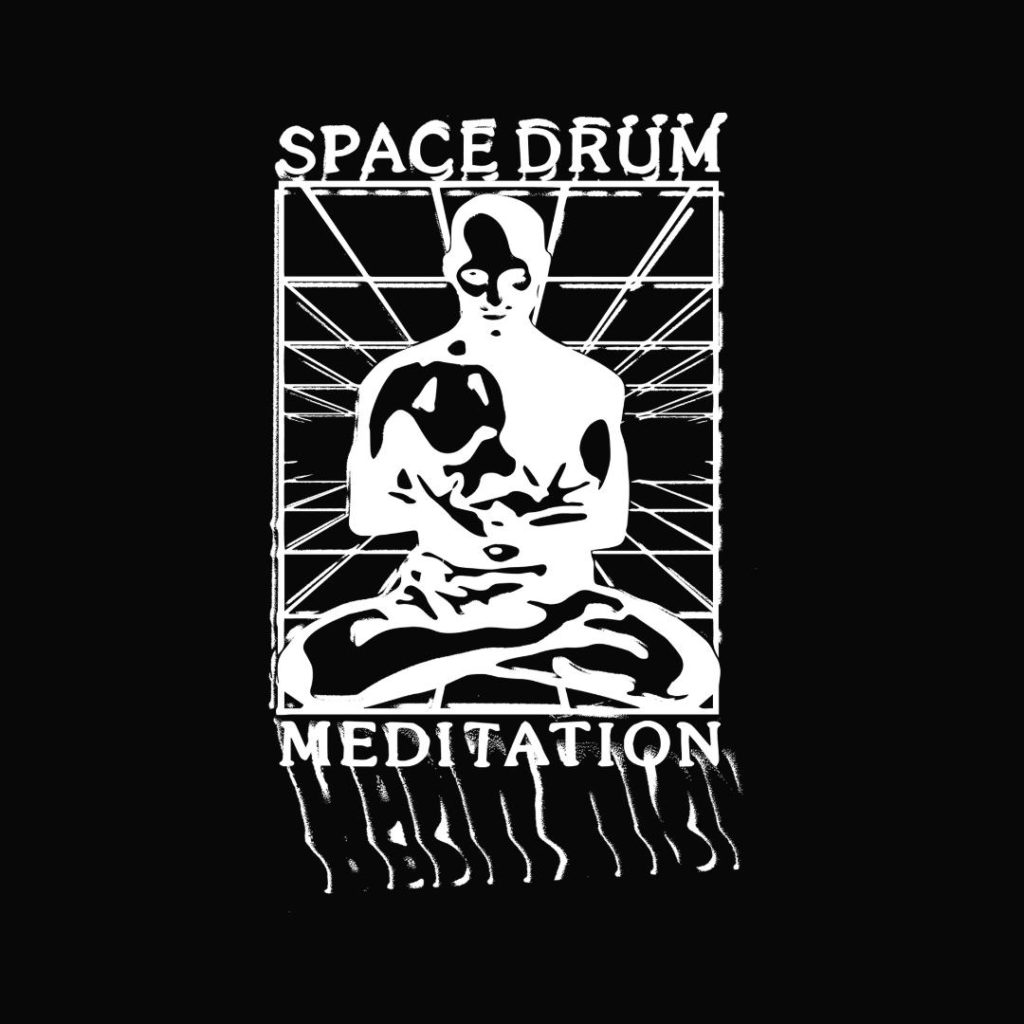 You're also hosting Space Drum Meditation club nights, e.g. at Berlin's "Zur Klappe" and at Hamburg's Golden Pudel. What would you say does a venue need to host a proper SDM night?
Most essential is the vibe of course. Klappe and especially Pudel are both known for their diverse and open-minded crowds as well as proper sound set up. They're both the kind of clubs where you can experiment, and the crowd would still be down.
How was your latest club night experience?
For our latest night at Pudel we had DJ Nigga Fox from Lisbon over. It was great to see people going down to his totally unqiue sound. You're not hearing these kind of grooves often in Hamburg, so we we're really happy with that night in particular. You should most definitely check out his new album on Principe.
What's up next on Space Drum Meditation?
We drop our third record in the beginning of next year. And we are having Toma Kami, great DJ and producer from Paris, joinig us for our next edition at Golden Pudel Clun on the 19th of december.

Introduction jingle by Harmony Horizon
Words by Nadja Preyer
Cover art by Helga Goetze
Portrait by Nils Hansen
Please note: Big servers and streamed data are eating up energy. And our planet. So do the world a favor: Download the mix and play it on your own device. Keep mother earth alive. Thank you.

TRACKLIST:
Pandora's Jukebox – LET THE RIGHT ONE IN
Pugilist – Encrypted
Space Drum Meditation feat. Congaman – Terra Sumpfland
Xcor – Integration
Akkord – Smoke Circle
Siete Catorce & Amazondotcom – Sad Hug
Piezo – The Mandrake
Sin Falta – Diamonds
Joy O – COYP
Cop Envy & DJ Plead – I.G.A.
DJ Nigga Fox – De Leve
Spooky J – Pfer
Simo Cell – Balandbeat
Konduku – Pembe Alan
Toma Kami – Suomi
Ramzi – bibwel ft. Asaël