Choosing Berlin and having more than one alias is not everything that Arsy and Christopher Rau – who contributed the last TISSUE Mixtape – have in common. On top, both are mates and share their mutual love for electronic music, which comes along rather quirky and free-spirited than polished and crowd-pleasing.
No surprise either, that there's gonna be a Rau-release on Arsy's Rixdorf Jams label in September. With the imprint, Arsy is concentrating on minimal experimental/micro house/dub house (fun fact: Rixdorf is the former name of Neukölln, Berlin's most saught-after hood). The artists love for electronic music in a broader sense is probably deriving from his past as a youngster in Eastern Germany: Being born in Halle, Saxony-Anhalt, he grew up amongst punks, hip-hop and graffiti.
Read now, how Arsy ended up choosing his MySpace nickname as one of his monikers and why he thinks, more of his DJ colleagues should answer certain booking requests with a nice and clear "fuck off".

INTERVIEW: NADJA PREYER
COVER IMAGE: TIM BRUENING
PORTRAIT: ANNE KODURA

Nadja: You grew up in Halle with Punk, Skateboarding and Hip Hop. How did you eventually explore electronic music?
Arsy: When you say you've been to a Punk (or Hardcore or Crust or whatsoever) concert in Halle, then you've been at G.I.G., VL, Reil78 or at the La Bim. Reil78 is a squat in a former children's home with a nice area and the Chaise Lounge in the back. And at Chaise were some sick parties at the time I started going out in the late 90's to early 2000's. They had a really strong booking and I had my first experience concerning what a good door policy is. At La Bim they also had monthly Drum and Bass parties, hosted by the Groundloop Crew and, oh boy, dancing in a cellar for hours with nothing but loud heavy breaks, fog, a stroboscobe and sweat dropping from the ceiling kinda got me.
Speaking of Punk, Crust etc.: What do you think has Techno with these music styles in common?
Well it's political, or even more important: it's anti fascist.
How do you choose your records for a mix – or a podcast?
If you ask me for a DJ mix, I'd come home from work, pop up a bottle of Sekt, get the Hits out of the shelf and have a good time. If you ask me for a podcast, I'll end up in front of the record shelf in fetus position one day before the deadline. I just think a podcast should work like a movie for your ears and you wouldn't get that by playing one hour straight Acid or Techno or House or whatever. And I also kinda enjoy to play records not all people agree with. Sorry.
The mix before yours was by Christopher Rau, a good friend of yours. We we're talking about aliases with him… Let's stick to this topic for a sec. What`s the story behind your monikers "Arsen1Computerklub" and "Cherbyl Sheppard"?
Phew… Long story short: Arsen1Computerklub was my old Myspace-Account name, which I thought would be funny and then accidentally ended up on a flyer of a party. And Cherbyl Sheppard was a moniker for the more raw house tracks I produced – "es scherbelt und es scheppert". I'll put some tracks out under this name again for sure.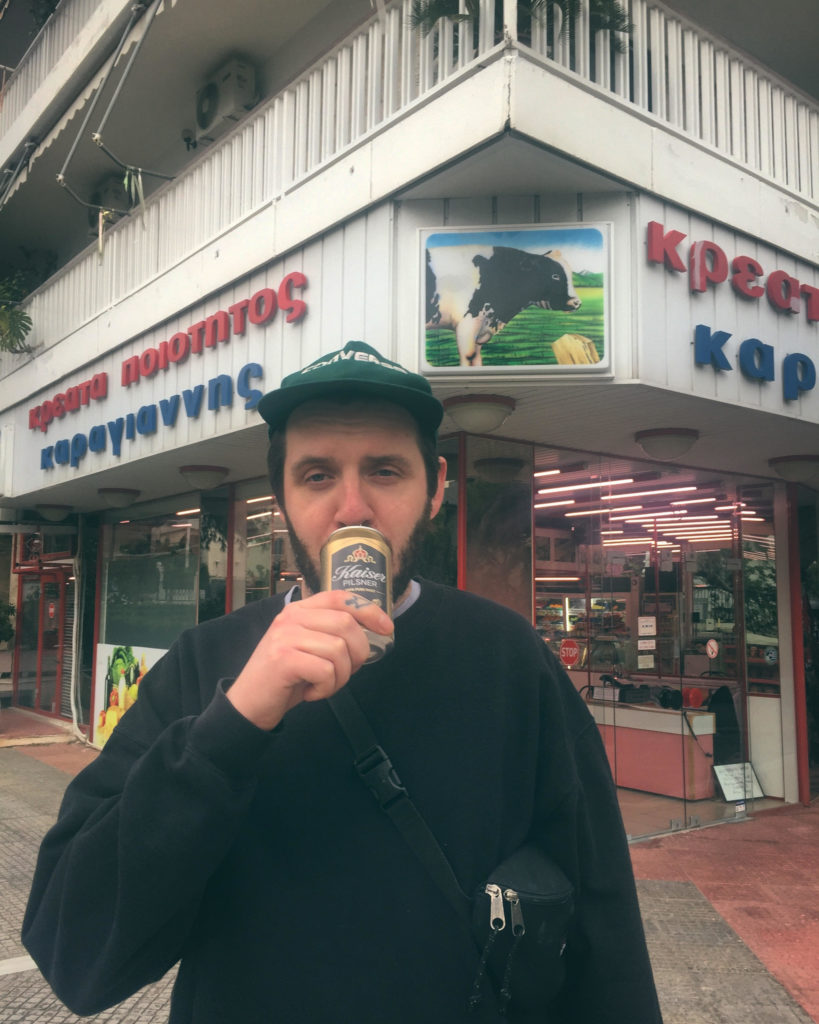 Your label Rixforf Jams refers to the Berlin quarter of Neukölln. What is it about this hood that inspires the way you make music?
I live here for more than a decade. It's my home and therefore my comfort zone. A very good requirement for making music. I work at home and luckily, the neighbours are pretty chilled. I can blast up during the day and nobody cares. The only thing that happens is that, when I do a break and turn the volume down, i hear the music from the people next door – ace. You can sit on the couch on a Sunday evening and someone starts to drill a hole at 9 pm. You just let them finish and don't go over to slam on their door. The whole vibe pretty much live-and-let-live and this attitude extends through the whole hood.
Speaking of Skateboards and Hip Hop: is Graffiti a thing for you, too? If so, tell us a bit about how you experienced the scene in Halle back in the days.
My childhood and early youth was placed in the 90s and Halle was blasted at this time. I can't remember seeing a building with not at least one tag on it. There was no way around it. The city was speaking and authorities we're trying hard to stop people tagging – but it just didn't stop.
You say, you don't wanna be suck in by the so-called business flow (can relate). How do you make sure to keep your game Untergrund?
When i started with electronic music, it was a scene and not the fucking market it is now. Don't get me wrong, I was living off DJing and I have friends who make a living of it and I'm happy for them. I even think it's possible to keep it underground, even though you're living off it. In the end, the whole "underground" thing is nothing but an attitude. Why the fuck would I play for a fucking media company that won't pay me, while they make a shit load of money advertising huge corporates? Fuck these twats – keep it real! Say "no" or even "fuck off" more often. There are lots of people in this scene now who don't do it for the thing itself. They just do it to make a fucking business out of it. And I'm pretty good at telling those people to back off.

TRACKLIST:
1. Wnydom Earl – NicollageBS
2. Magic Mountain High – Live at Freerotation 2012
3. Molly – Fire
4. Early Inhabitants – Sullen Landscape
5. Florian Kupfer – Untitled
6. Kuf – Tascam Loops
7. Sneaker – Gebet
8. Villalobos – Fizheuer Zieheuer Pt.2
8. D.Diggler – Pumpstation
9. Cassegrain & Tin Man – Sex Kit
10. Guy Conctact – Patience
11. Daze – Untitled
12. Studio1 – Rosa 2
13. Maurizio – Domina (Carl Craig's mind mix)

Introduction jingle by Harmony Horizon
Words by Nadja Preyer
Cover image by Tim Brueining
Portrait by Anne Kodura
Please note: Big servers and streamed data are eating up energy. And our planet. So do the world a favor: Download the mix and play it on your own device. And keep Mother Earth alive. Thank you.


Visitez:
www.soundcloud.com/arsy_eins