F is for fandom
There are many reasons why musicians choose to release under more than just one moniker. For some it simply has practical reasons. For others, like Christopher Rau, it's pure fandom. The former-Hamburg-now-Berlin-based producer has always been fascinated by fellow sound geeks like Polarius aka Nomad Ninja aka Legowelt – these are, by the way, only 3 of 37 (!) aliases of the Dutch producer. But back to Southern Germany, precisely: Landshut.
This is where Christopher Rau was born. And where he discovered electronic music. Back then, he was digging by listening to several radio shows. And when you're digging, you wanna play what you found, right? So Rau started to throw basement parties. And when you realize, that you really feel all this digging and playing, one day, you'll most probably decide to leave Landshut. And this is what Christoper Rau aka T.R. "Early" Earl aka Rhythmus Günther did.
One of his reasons to choose Hamburg as his new home? Cause it was (and still is) home of the infamous and die hard Golden Pudel club. Again: pure fandom.
Enjoy Christopher's diverse and deep, still uplifting TISSUE Magazine Mixtape that spares you trivial Kick-Bass-Hi-Hat boredom while reading the interview below.

INTERVIEW: NADJA PREYER
COVER IMAGE: NIKA ARKHIV
PORTRAIT: ARSY 1

Your TISSUE mix sounds like you're into a very versatile and playful sound. Tell us a bit about your musical education. What were your early influences?
I've listened to the radio a lot when I grew up. Channels like FM4 with their shows Tribe Vibes, High Spirits, La Boom Deluxe, Silly Solid Swound Sound System and World Wide Radio Show influenced me a lot. All of these shows were focusing on different music styles. While Tribe Vibes featured Hip Hop and Rap, La Boom Deluxe played more club oriented music. Zündfunk on Bayern 2 was another one that really caught me.
Which projects did you join along your way?
I started running intimate basement parties in my hometown, Landshut, together with Maximilian, a friend of mine. These partys were just us, playing music and having fun. The next step for us was starteing our label Dérive together with Björnski. This was after I moved from Landshut to Hamburg. That was also when I released my first record on Gedankensport. Eventually, I ended up working with Smallville Records and Laid, a label that is run by my good friend Pete aka Lawrence.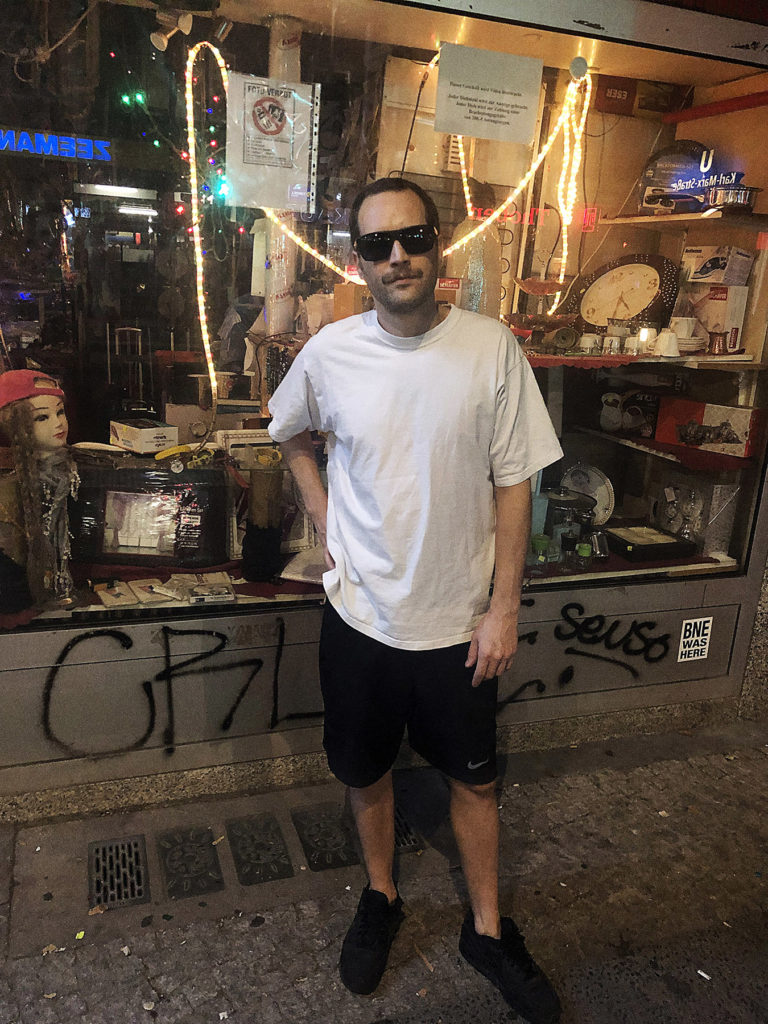 You were living in Hamburg for five years. How do you look back? And what is it you're missing in Berlin?
It was an amazing time and I really like to think back. I have lots of great memories of Hamburg. DJ Harry Cowboy's DJ Stammtisch at Astra Stube for example. We've always met on Mondays, which was perfect as I had off on Tuesdays. I met loads of local people in the scene and we all started connecting while listening to music. Along the way I played in clubs like EGO, Baalsaal, Uebel & Gefährlich and Hafenklang, but Golden Pudel is definitely the one I miss the most.
What's so special about Golden Pudel?
There's just nothing comparable. Pudel is offering quality content, 6 days a week. I often went there during the week and never got disappointed. To be honest, I haven't found such a reliable club in Berlin yet. So, concerning Hamburg, Golden Pudel and Tilmann Tausendfreund are definitely two things that aren't replaceable here in Berlin.
One of your music projects is called Rhythmus Günther. Awesome name. How did you come up with that? Would you say proclaiming nonsense and doing silly stuff – in other words: taking things not too seriously – is part of your identity as an artist?
I don't want to determine myself in that way. I definitely take making music seriously, possibly too seriously sometimes. Founding Rhythmus Günther was a twinkle smiley to this very cold and professional identity that was so popular during that time (Rhythmus Günther released his first EP in 2013, editor's note). From a retro perspective, I'd say that I was really privileged at that time. I was able to not take things too serious. Also, DJ Koze and Lawrence were using the word "Günther" very inflationary. That might have had an impact on me as well.
Which releases, gigs and new projects are on your future schedule?
The most recent record I've released is a split EP on Story About You together with Pearla. I have a couple of remixes coming up on 777, Freund der Familie and Platte International. On the 777 remix record, I had the chance to remix Roger 23 alongside other artists like Rroxymore, Luz1e and XDB. Also, Rixdorf Jams is gonna release an EP by me in September. One track is a collaboration with my DJ friend and mentor DJ Jovial. And there are also other projects that will be out in the future, but I can't talk about them yet.

Introduction jingle by Harmony Horizon
Words by Nadja Preyer
Cover image by Nika Arkhiv
Portrait by Arsy 1

Visitez:
www.soundcloud.com/christopher-rau