Nothing but Bangers
Dangermami is one of those rising stars of the scene who started DJing during lockdown. In 2020, she bought her first second hand decks: 850 CDJs with a screen that was 'kind of a nightmare' as she explains to us. But when the going gets tough the tough get going, right? So eventually she got the gist of the gear and turned her time in covid isolation into something very fruitful. Not only because the Berlin-based artist learned how to DJ pretty quick, but also by founding Femme Bass Mafia. FBM is a program that is mentoring women, trans and non-binary people who want to learn how to play records, but are missing the opportunities, financial means or a safer space to feel comfortable practicing.
So Femme Bass Mafia is basically taking care of pretty much the same issues Dangermami found herself confronted with before she could step behind the decks for the very first time. That first real life show was a b2b2b with some friends in a bar in Berlin-Kreuzberg. Before the nights started, they got told by the (male) host that they shouldn't play any bangers. Her reply was simple but effective: 'We have nothing but bangers!' Around two years later, Dangermami is blessed with a pretty busy schedule and got quite a few heads turned both with her work for FBM and her solo work. Well, sometimes you just have to play them bangers.
INTERVIEW: NADJA PREYER
Where did you live before you came to Berlin?
Thanks to my parent's home countries I lived in quite some places. It was less fun when we had to move though. Originally I was born in Moscow and spent a few years in Russia before moving to my father's home country Netherlands and we mainly lived in Rotterdam. After that, we moved to France where we lived I the southern part, close to Cannes until we eventually ended up in Paris for the biggest chunk of it. In 2015, I went on vacation to Berlin for two weeks (a big party trip) and loved how relaxed and open-minded everything felt. This experience fueled me to find an internship in the creative field. After that, I found one in a music agency, then found an actual job in "the industry" and nearly 7 years later: here I am.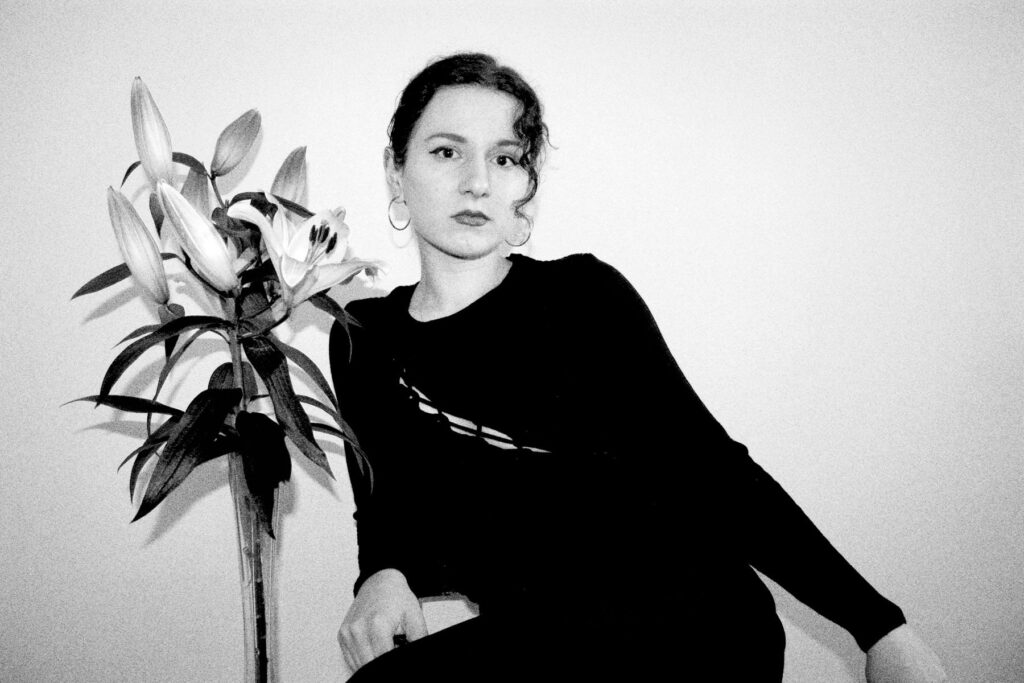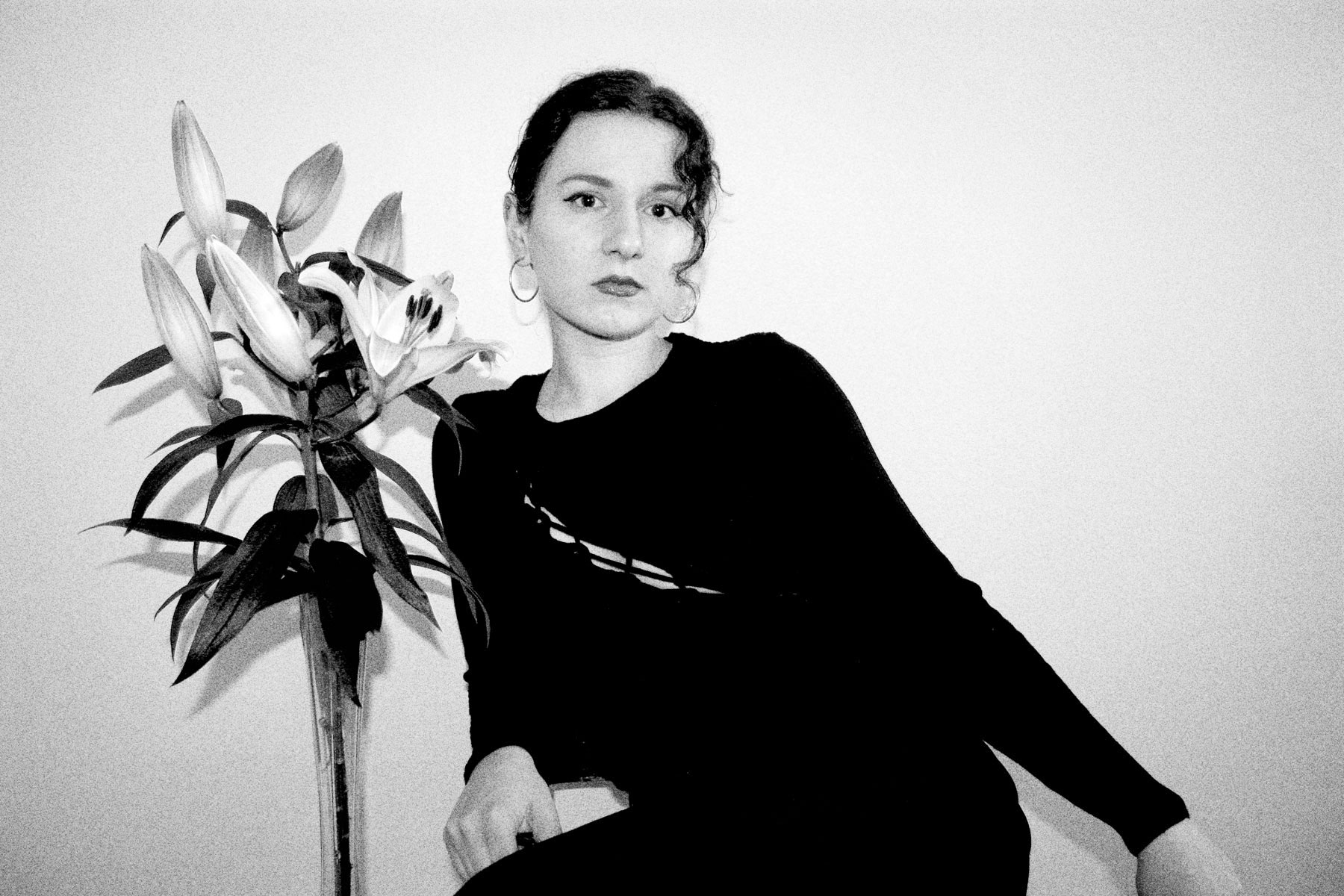 You are the founder of Femme Bass Mafia. How did the idea to support female, trans and non-binary newcomers manifest?

Femme Bass Mafia (FBM) started to grow mentally in Summer 2020. But it was November the same year we finally went online and had a visual identity. So it took around six months of proper organization and project building. There definitely was a trigger moment which came from my own frustration of not having a safer, femme support system when I was learning how to DJ. Asking for help was also a bit uncomfortable, since it would require time and space from my, well, male friends, so I tried to ask them as little as possible. I was also living in a WG at the time and only the dudes would be mixing records, while the femmes were sitting on the couch. One evening we chatted about DJing and I learned that the other girls also felt uncomfortable practicing at home when they weren't alone. It sounded a bit surreal and I thought we'd urgently need a crew that gave us the opportunity to study in peace.
'I used to cry in the corner when we had the first Femme Bass Mafia workshops happening.'
How did the scene change in your eyes since you started?


There seems to be more space for newcomers meanwhile, which is great! In terms of bass music, there has been a slight change in line-ups, or crowd reactions after the pandemic hit: people seem to be more open to breaks as well as fast-paced music like jungle or drum and bass, which is a big game changer for me. We also gained a bit more of awareness for 50-50 line-ups, but we're still so far from it. We are moving in our safer bubble a lot and once you look outside of it, there's still a lot of male only programs. 

What was the most heart-melting FBM moment you experienced so far?


There are so many of them! I used to cry in the corner when we had the first workshops happening, as it was pretty hard to believe that things were finally caming to life, especially in the context of a pandemic. With each cycle comes a graduation and I would say that one is my favourite moment: seeing the mentees behind the decks for the first time doing their thing is the best feeling. We also do feedback sessions at the end of each program and these are very emotional and vulnerable too and I truly love that we managed to build this trust with our mentees.
Talking about your TISSUE Mixtape: you told us that you were 'really flowing with this one.' What defines the momentum of flow for you?

Sometimes tracks just really come together into a smooth combination, without having the feeling that you put so much work into it: that's the flow, when the digging pays off and you manage to put the puzzle together seamlessly.
'What makes me angry? People eating crunchy things on public transportation and cis-men who sit on a pile of privileges.'
Your mix is 80% dark chocolate. A bitter sweet grimey "fuck you, thanks." We hear a lot of fast paced breaks, evil soundscapes and: anger. What makes you most angry these days?
People eating apples or crunchy things on public transportation makes me angry as I'm highly misophonic since I'm 12 – but also cis-men who sit on a pile of privileges and don't do anything about it. The ones who make you feel bad for calling them out on their sexism. And, of course, the current world situation we're in makes me deeply sad and, yeah, angry too. 

Who's your favourite producer at the moment?
Difficult to answer as there are so many. I've been highly obsessed with Deft, who navigates 140 BPM dubstep and fast paced bass in a brilliant way, but also with artists like Bitter Babe & Nick León who just released their amazing Denbow EP with some turbo club percussions which blend into anything in an amazing way.
What's cooking in 2022 for you and FMB?

Aside from the RSO residency and the third generation of FBM mentees who just started their courses, we will take over a few club and festival floors over the next few months. Also, it could be that we're working on a community event together with a very special venue in Berlin. More to be disclosed soon!
TRACKLIST:
Air Max '97 – Eat The Rich
Simo Cell – Whispers
Lokane – See Me
Esposito – Framing Void
Mutable Mercury – Vexation
FALSE PERSONA – ROLL CALL
Hamdi – Skanka
STILL, ECKO BAZZ – Ntabala (Rolex Riddim)
Chungo – O O O 
DJ Plead – RB C
Hedchef – Guillotine Clause (Tom Place Remix)
Ma Sha Ru – Null Azimuth 
TK-33 – Хочу Тебя
Bolam – Forgot My Brain (LWS Remix)
Mutant Joe – We Movin Bricks
Hermeth – Mandelectroeiv
Flore – The Switcher
Toma Kami – Immature Cheddar
Aquarian – Saule Dub 
Siu Mata & Amor Satyr – Movimiento 
Groves – Don't Appreciate It
Kahn – Abbatoir (Yazzus Remix)
nickname – Ra-Ta-Ta
Sam Binga ft Redders – Lef Dem
Digital cover artwork by Tim Bruening —
Introduction jingle by Harmony Horizon
Visitez:
https://www.instagram.com/d.dangermami/
https://www.instagram.com/femmebassmafia/

×