Le Freak
INTERVIEW: NADJA PREYER
ARTWORK: JÜRGEN KLAUKE
The power of music compilations has been underrated ever since. No matter if CD or vinyl, digging out the right one at the right time can make for a game-changing momentum in potentially every DJ's path. That case also applies to DJ Kobex, who dug out "Egypt, Egypt" by Egyptian Lover on a comp. The track, that first came out on Freak Beat Records in 1984, is one of these key tunes that shaped the style DJ Kobex adores more than every other genre: 80s electro funk. Even after collecting it for almost 30 years and playing it since close to 25, the Hamburg-based member of the Funkfreaks crew is actually not listening to any other kind of music. We spoke to him about his connection to the funk scene in Los Angeles, his favorite size of records and what made him such a funk freak. Oh, in case you noticed a high amount of the word freak popping up in this short introduction … it's no coincidence.
How and when did your love for funk and electro begin?
Before it started, so in the years before 1992, I was a passionate Michael Jackson fan. At the time I started discovering electro and funk, everything was still filed under hip hop. It was the fast 1983 to 1984 vocoder electro funk and electro rap that got me hooked. At that time, which was pre-internet, gathering contacts and information about records was still kind of laborious. But with years passing and the rise of the internet, I realized how many countless records of this genre were out there. Especially the 12-inch maxi's, which I really like. Record purchases like "Quadro-Phonic" from Sugar Style, "Live On the Nite Beat" from Universal Krush Kru (M.C. Chief) and "Breakdown N.Y. Style " by Rusty P. Were some of the highlights in my collection – to name just a few.
What happened next?
Around 2002, after having been inactive for a while, I discovered the Boogie Funk channel of an online Dutch radio station called Urban Dance Groove Radio or something like that. The titles were always displayed nicely during the stream. Bands and artists like Kashif, B.B.Q. Band, Shalamar, Whispers or Midnight Star were playing on this channel all the time. From today's perspective, the absolute basics. Just one example: First I knew the electro vocoder funk piece "Electricity" by Midnight Star by heart. Later, it's been the other tracks on that "No Parking on the Dance Floor" album that became more and more interesting to me. Basically it's still the early 80's funk sound, just a little slower and with a higher amount of vocals compared to rap or vocoder funk for example. I liked the sound so much especially because it had an incredibly positive vibe. For me, the tracks have to have a great bassline, the snare drum has to smack a lot .. It's the typical dirty "street funk" that does it!
What's the story behind your instagram moniker Funkfreaks Hamburg?
I'm a member of the international DJ crew Funkfreaks since 2014. The crew has its origins and headquarters in California. The boogie funk sound is omnipresent there and was and is currently being produced a lot there. On my channel, I post new records, pictures or Silkscreen shirt prints now and then or play a live set spontaneously.
Did you ever visit the Funkfreaks in Los Angeles?
Yes! I visited the Funkfreaks homies in California in 2018 with Lukas Funkateer (Funkfreaks Austria). I played at the Chicano Park Day in San Diego and also at the O.G. Mikes in Santa Ana, Los Angeles and Arizona. It's where artists like Diamond Ortiz, XL Middleton, but also legendary bands from the 80's like the Ozone Band and the Kiddo Band have played back in the days. The contact to the scene and the whole vibe I could capture during this trip has been a killer experience for me. These memories are still inspiring me to this day. I intend to go there again, when the pandemic will – hopefully – subside one day. It's good to know that my 24-pack of Modelo beer is already held ready for me [smiles].
"I only listen to 80s Funk. All day, all night."
How would you describe Hamburg's 80's funk scene?
As far as the 80's funk is concerned, from my point of view there's only a small scene. I would like the audience to be more open-minded towards this type of music. Sometimes you'll find a party where 80's funk and a bit more modern funk are interspersed in the DJ sets. But in general, the genre doesn't seem to have really gained a foothold yet. In Hamburg, it still has to step out of it's niche existence.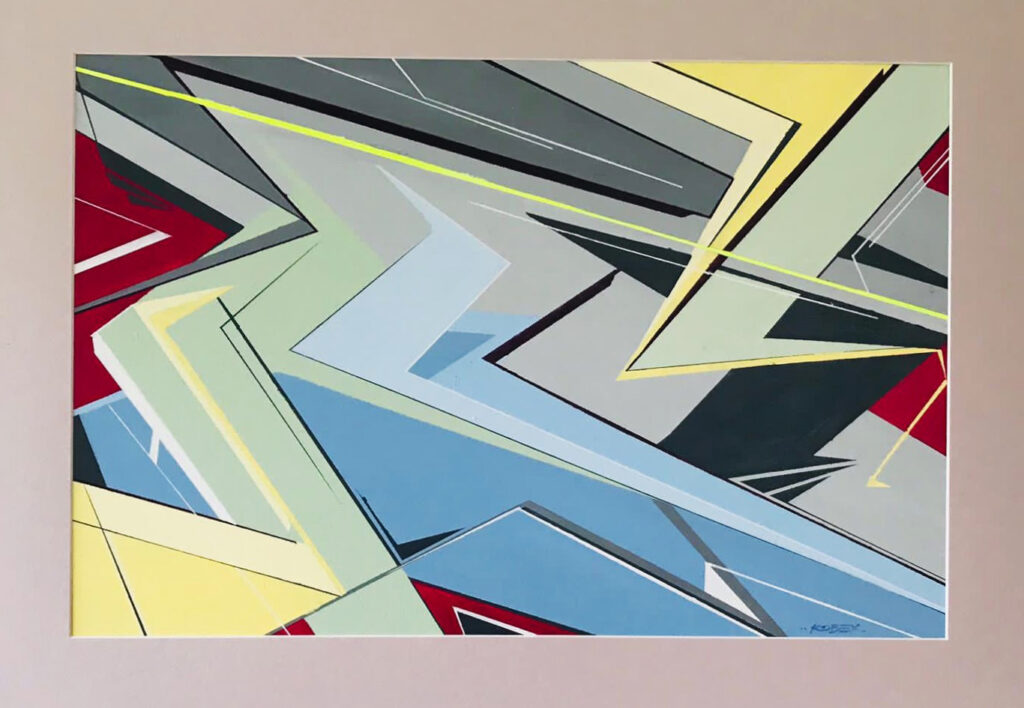 You started DJing with vinyl and still stick to the medium. Tell us a bit about your love for the inches.
I`m buying my vinyl records specifically on the internet. Some records that I recently bought have become very rare. Sometimes I'm checking Discogs three to four times a day to see if this or that record has been put up for sale spontaneously. And it has already led to one or the other success. If the record is on sale, then you should be damn fast. It's an awesome feeling when you finally have it on your turntable play it. For me, everything revolves around 12-inch maxi vinyls, as it simply gives me the best versions. I also have two to three cases full of 7-inch vinyls. But I have to say that I only buy the 7-inchs if there are no 12-inchs of them. 
Would you say there's something like a 7-inch fetish?
There are people who only spin 45's. That's cool, too and totally okay.
Still, I do prefer 12-inch singles.
"Digging is still fun these days."
Vocals and singing are super important for funk music. Do you have any favorite singer, maybe even based in Hamburg?
I know a funk singer from Hamburg with a great voice. It's Marhsall Titus, who is originally from the US, Chicago to be precise. In 1984, he won the first place at one of the "Budweiser Showdown" contests with the track "Take A Chance". The title is an absolute boogie slapper and hard to get on record today. I invited him to my house a few years ago to sign his record. We got along well straight away and he even came to two of my birthday partys and sang "Take A Chance" in my shared apartment at that time. The track is part of my TISSUE mix, you can listen to it from minute 37 on. "Take a chance on the feeling and don`t look back!".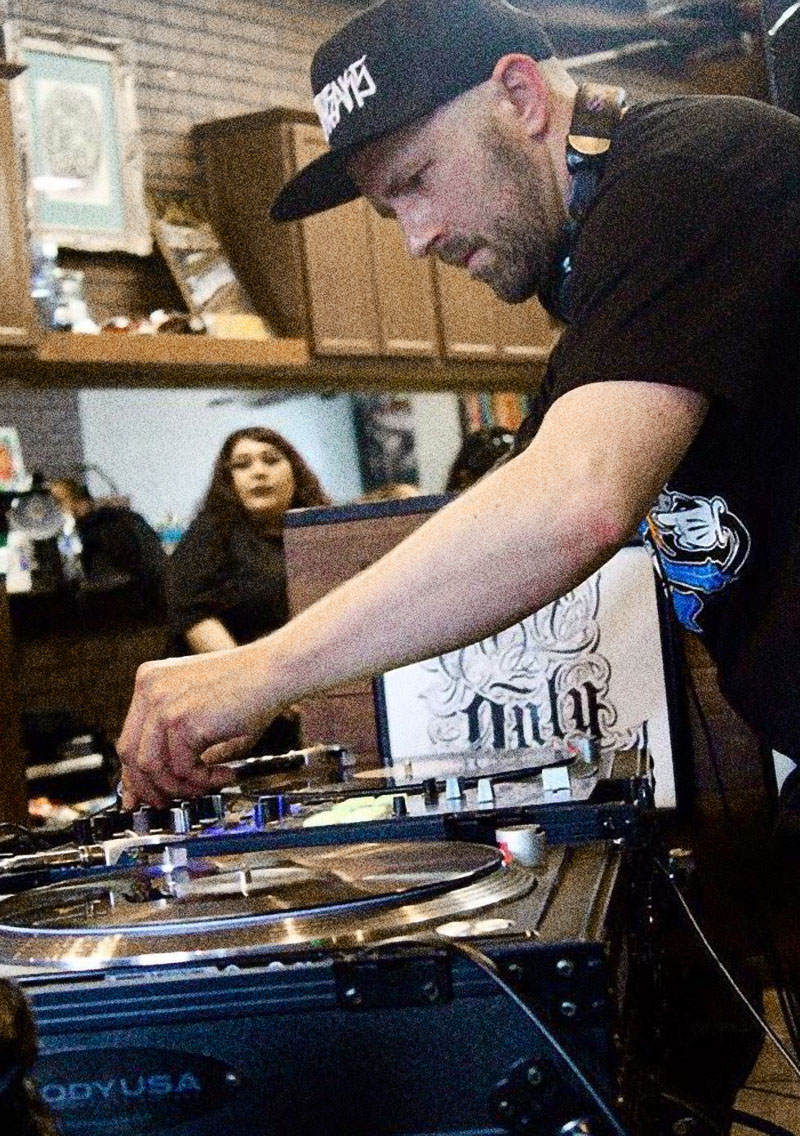 After the pandemic: which Hamburg record shop would you pop up at first?
Oh yes, I'd run to a record store first, but I'd rather not name it. At least a lot is unsorted. So digging is still fun these days!
What's your three favorite tracks in your TISSUE mix?
"Why Do You Treat Me So Bad" — Two Funky Sisters
"Everybody Up" — Ray Vaughn Taylor
"The Family" — The Wiggle
Any projects coming up?
I am a member of the 5-person old school electro funk group called E.F.K. Force. For E.F.K., I produce the scratches together with Dj2tuff, who is also a member. Our album "Fresh Beatz" is coming out soon, May 4th 2021 to be precise. On vinyl of course.
TRACKLIST
Sharpio – Dance Drome
World Entity – Found That Love
T.H.S – Lady Shine
Jerry Green – First On The Dance Floor
Strutt – Take Me ToYour Party
Tuttoo – Do You Wanna Dance
The Family – The Wiggle
Exquisite Taste – It`s You That`s Happening
Man Friday – Love Honey – Love Heartach
Ray Vaughn Taylor – Everybody Up
Fox The Fox – Stretching Out
Two Funky Sisters – Why Do You Thread Me So Bad
Chocolate Milk – Who`s Gettin`Hot
Colin – How It Used To Be
Ray Vaughn Taylor – Everybody Up
Marshall Titus – Take A Chance
Carl Smith – Come Back Lover
Chas – I Just Want To Be Loved By You
Gunter Phillips – 1-2-3- Luv
Jake & Jody – She Freaks
Robert Loew – Can You Use It
Go – Disco Sharks
T.J. Johnson Band – I Can Make It ( Good For You )
Please note: Big servers and streamed data are eating up energy. And our planet. So do the world a favor: download this mix and play it on your own device. Keep mother earth alive. Thank you.
Introduction jingle by Harmony Horizon
Artwork by Jürgen Klauke (as published in TISSUE N°666FFF, courtesy of Galerie Hans Mayer) #planethacks
Visitez:

https://soundcloud.com/djkobex

https://instagram.com/funkfreaks_hamburg