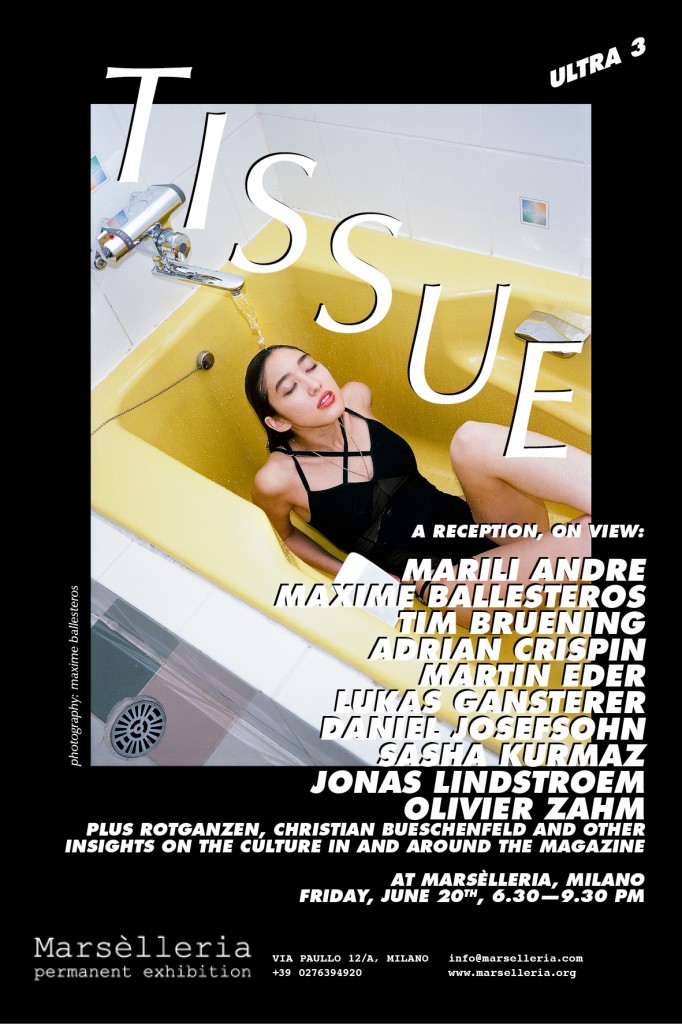 More details here:
https://www.facebook.com/events/661590283917834
Thanks to Mirko Rizzi and his friendly team we got invited to host an TISSUE Ultra evening at Marsèlleria Permanent Exhibition in Milano, June 20th 3014.
This is our first visit to bella Italia, so please spread the news in and around Milano!
We will show an handpicked selection of 10 of Team TISSUE's most important artists and photographers which showcase a mix of former artworks, a preview on TISSUE N°5 and an insight on the culture in and around TISSUE Magazine.
On view:
MARILI ANDRE
MAXIME BALLESTEROS
TIM BRUENING
ADRIAN CRISPIN
MARTIN EDER
LUKAS GANSTERER
DANIEL JOSEFSOHN
SASHA KURMAZ
JONAS LINDSTROEM
OLIVIER ZAHM
plus Rotganzen, Christian Bueschenfeld and documentations on some half-legal urban actions by Team TISSUE.
Hoping to see you there!
Team TISSUE
TISSUE Ultra 3 reception at Marsèlleria, Via Paullo 12/A, Milano
Friday, June 20th, 18.30 till 21.30h
http://marselleria.org
https://www.facebook.com/events/661590283917834