Yes, the photographer is back and we're the first to drop the news. We met him at the opening of his exhibition "Comeback" at Horst Janssen Museum in Oldenburg a few days ago. What? Where has he been and why in Oldenburg? And what have Amanda Plummer, Paz de la Huerta, Nicolas Cage, and Burt Reynolds to do with all this. We were a bit confused too and able to ask Tim a few questions. Read the artist's answers below.
INTERVIEW: UWE BERMEITINGER
Congratulations to your "Comeback" at Horst Janssen Museum in Oldenburg. It's good to have you back. Where have you been all the years?
Tough one. I drowned in the 60ies or 70ies, I was cancelled in the 90ies, I relocated myself and I was hospitalized – but in the end I always had my comeback!
Most importantly, why in Oldenburg?
Because Oldenburg in September is magic! When Horst Janssen Museum invited me, I immediately saw the incredible potential of the space. The museum's architecture is amazing and I think it is the perfect room for my ideas. The whole team of Jutta Moster-Hoos is totally sweet. They normally work in a different way and never had an exhibition like that before. But they gave me the freedom to do what I wanted to and fully trusted my vision. It was a good experience to work with there.
The pictures you have taken at Filmfest Oldenburg over the years mark a big part of your exhibition. It is among the five most important festivals for independent movies worldwide. What's the story behind this event and his maker Torsten Neumann?
I've been to film festivals and industry events all over the world and one thing I can say for sure is that the international Filmfest Oldenburg is special. People don't believe it until they've been there and felt the spirit on their own. I get it, I mean Oldenburg? A little village in Northern Germany? But that's the point. It's not like the usual movie gathering where the people mostly hang around in their own bubble. Everybody is down with each other and even the biggest stars hang around with the youngest underdogs. They all connect. They all have fun at the secret motto parties. It's a whole different vibe. This is why stars like Amanda Plummer, Deborah Kara Unger and others return to the festival over and over again.
Torsten Neumann is a genius when it comes to selecting movies and the international audience as well as critics are aware of this. The movies who premiere at Oldenburg and win the awards are the ones who go crazy afterwards. They'll often win every other festival afterwards. Hollywood Reporter is the festival's official media partner. Oldenburg is serious!
Why is it, that especially in Germany nobody cares?
Because German film industry is boring, they don't got the spirit, the fire, the imagination and the courage. Oldenburg is indeed really international, something Germany won't ever be if they keep this attitude.
Should we finally abolish Germany? Or at least the CDU?
Deutschland muss sterben damit wir leben können! [Germany must die so we can live!] If we abolish the CDU, we have to take care of these corrupt SPD fucks, too.
What was your funniest encounter in Oldenburg?
Oh there are too many but one still gives me giggles. Amanda Plummer screamed at me at the red carpet one time, right when the limousine dropped her. I was almost inside the theatre but she saw me and screamed "Tim!" She passed all the photographers and people and ran straight towards me to hug. She couldn't care less. All the photographerswhere like, who the fuck is this guy? I love Amanda, she's such a beautiful soul.
Any other delicate story for our readers?
What happens in Oldenburg, stays in Oldenburg. But one time like 15 years ago or so I climbed over the roof of an hotel to sneak into one of the festival's legendary secret parties. I wasn't invited back then and was so drunk that I had a hangover for three days afterwards. I literally went to see a doctor because I thought I had a stroke. Thank god I don't need to crash those parties anymore.
What can we expect from your exhibition?
The whole exhibition drags you into a different world, it is a huge cinematic collage, there's a lot to see, it's almost 200 photos and a lot of videos. It's a trip around the world of movies, a celebration of imagination, and the fascination of storytelling. The photographs oscillate between appearance and reality. I also worked very close with Studio Othertypes who created the incredible logo, typography and publication for the exhibition.
Can you please drop some names for our readers?
Amanda Plummer, Paz de la Huerta, Bella Thorne, Nicolas Cage, Sandra Hüller, Laura Tonke, Bruce Dern, plus a tribute to Burt Reynolds.
Talking about names, your grandmother will accompany you in Oldenburg and thoughout the exhibition. How's Oma Thurmann going?
Oma Thurman or Oma Elsbeth as her friends can call her is doing good! She's a great collaborator and big inspiration. I wouldn't be where I am without her wisdom. I've been working with my grandmother for over 15 years now. Her and also my mom have always encouraged my creativity. Oma Thurman a bad ass actress as you can see in the photos and videos in the exhibition.
When will she finally star in a movie?
I hope soon! Maybe Tarantino hires her for Kill Bill 3 when he sees her fighting skills.
What about the video installations?
The video installations show my grandma goofing around in costumes and there are actors talking about "my comeback" starring Baby Darrington, Danny Trejo, Bruce Dern, Sandra Hüller, Robert Stadlober and others. It's really fun to watch what they have to say. I also recommend the shrine I built for Burt Reynolds.
Comeback is also the title of the book accompanying your return. It's a bold publication designed by Studio Othertypes. What can we excpect from the book?!
As you mentioned, it's bold. And I still can't believe we made it happen. I have to give a huge shout-out to Studio Othertypes and Pinguin Druck at this point. We already had buried the idea of a publication and then they pulled this 248 pages beast out of nowhere in just one week. I'm really proud of the outcome. It's different. While the exhibition is a huge collage, the book is telling a story in five chapters. It features more pictures than the actual exhibition, film stills from the Baby Darrington video and a movie with my grandma, and fine words by Sven Christian Schuch and Torsten Neumann.
What are you planning for the future? Will you disappear again just to return for another comeback?
You can't have enough comebacks.
×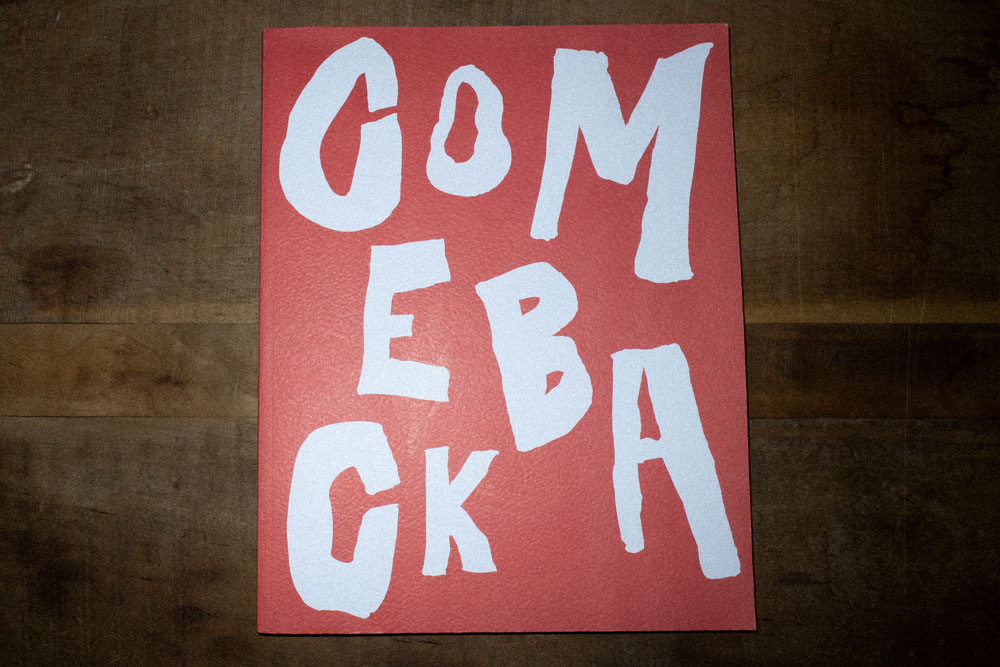 "Comeback" is also the title of the 248 pages strong publication that accompanies the exhibition at Horst Janssen Museum. We hope to be able to offer a few copies via https://kiosk.international soon.