Last year in July, we had the honour to release six exclusive tracks composed by producer and multi-instrumentalist Rupert Marnie in the form of TISSUE Magazine Mixtape No. 60 called Una Serata al Bar Joy. Its 45 minutes compiled by "the wizard" himself were inspired by a tacky bar in South Italia, his love for coffee and all food Italian as well as his new crush: the vibraslap! This Saturday, TISSUE Magazine and Hamburg-based art and club music collective The Press Group are proud to present a live performance of the original album in its entirety. For one evening, Rupert Marnie will take you the eponymous Bar Joy at Hamburg's Kampnagel. We met him a few days before and talked about his Balearic composition dedicated to the Latin American percussion instrument.

INTERVIEW: UWE BERMEITINGER
PHOTOGRAPHY: FERRERO, GOOGLE, AMAZON and NINA MAIR

Rupert, please tell our readers who you are.
I am a musician currently living in Hamburg. I work as a freelance sound designer and composer for different theater projects and I'm in the final stages of my master studies in Sound Design, which i will complete in Summer 2019 by creating an electronic ambient album. My musical influences are broadly diversified from minimal music of the 60s to contemporary electronic dance music, from poly-rhythmic percussion works to healing Ambient sounds.
You are one of the five co-founders of The Press Group – a pretty active and highly aesthetic upcoming club music label.
Yes, The Press Group is basically a vinyl record label, which my four colleagues Dodo Voelkel, Cornelius Altmann, David Reimann, Max Prediger and me founded back in 2015. We release contemporary electronic music in the field of House music and Techno. I was in charge of the first four releases which came out during the last years. This February we released our sixth record by Ukrainian artist and DJ Sasha Zlykh. There are more records to come this year, including one by my labelmate Youthman and again, one by myself.
In July 2018 we asked you to contribute to TISSUE Magazine's monthly mixtape series and you came up with an exclusive 45-minute album called "Una Serata al Bar Joy". Exciting – please share your genius inspiration with us.
The whole production is inspired by my last trip to Italia back in 2017, when I was on Summer holidays with my girlfriend exploring the unique area of Liguria. We had such a good time there enjoying the sun, the sea, the food and of course the people. I always felt very connected with Italians – their mentality, their culture and their way of living – and of course their sun and weather. It's hard for me to explain this atmosphere and my feelings in words. I put all my inspirations combined with original field recordings into the six tracks to share this balearic experience with everybody willing to join. Expect different synthesizers, drum machines and my newest crush: the vibraslap. It's a Latin American percussion instrument consisting of a piece of stiff wire connecting a wood ball to a hollow box of wood with metal "teeth" inside. It gives you that special holiday feeling. The whole production is named after that tacky bar in La Spezia where we were having this delicious espresso one morning – infamous Bar Joy.
Seven months after the premiere on Berlin Community Radio (r.i.p.!) back in July 2018 you perform Una Serata al Bar Joy live at Kampnagel on February 23. What can our readers expect about that night?
At Kampnagel we want to give you an extended experience. For the whole night we install an Italian-like bar, serving special drinks in a loose atmosphere. Unwind, sunny mind. I'll play the concert with guitarist Bendrik Grossterlinden. Maybe 1,5 hours, maybe 3? We'll let the vibe decide. Afterwards Press Group DJ's will keep you dancing all night long and turn Kampnagel into an Italo disco. Molto calda.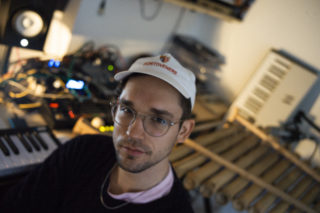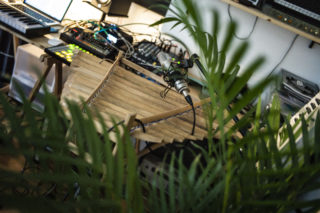 TISSUE Magazine & The Press Group: Una Serata al Bar Joy
Saturday, February 23, 9 PM
Kampnagel Hamburg
Jarrestraße 20
D-22303 Hamburg
Visitez:
https://www.kampnagel.de/de/programm/una-serata-al-bar-joy
A poster booklet with a CD signed by the artist will be exclusively available that night, strictly limited to 10 pieces.