A series of sweet seductive females flaunting themselves on notepaper as lazy day doodles. Plonked haphazardly with one leg curled under herself, one can almost envisage the tease of a tongue between her lips as Natalie Krim wishes reality away, frantically creating space for a world with much more time for sensual intellectual stimulation.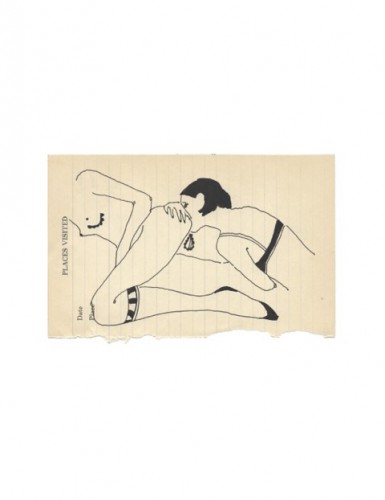 Depicted only in ink or pencil, Krim's sexual, simple and stylised illustrations lay themselves wide-legged and garish upon all manner of re-appropriated paper foundations including address books and cash sheets. In utilising normality when depicting introversion, Krim's intention is to promote honesty, simplicity and purity within her message. The work is in essence, a surplus of sporadic illustrative journal entries; a diary-esque documentary into her own intimate and erotic subconscious.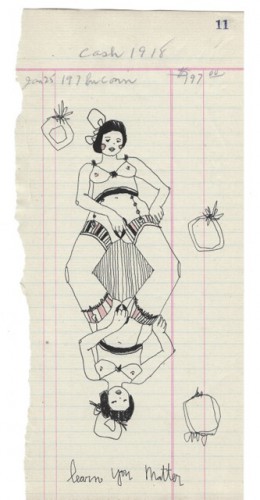 As inspired by both the complexity and simplicity of love, Krim's hand-drawn women detail a conflict between both heavy erotica and a lack of enlightenment. The females appear to portray a relentless cycle of pent-up sexuality, with nowhere to run to but the unforgiving torn borders of the upcycled paper on which they sit.
The drawings on view in Krim's current show at Little Big Man Gallery narrate just this conflict, with inspiration stemming from the artists own intimate relationships as well as the themes of love, betrayal and loss.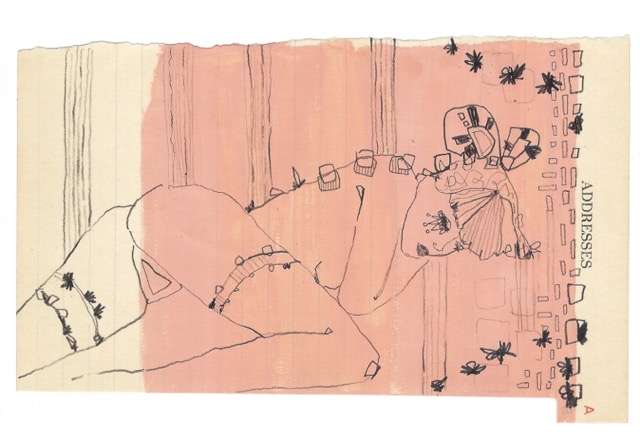 An aloof sadness thus emits itself from the work. The drawings appear to present a fresh wound; private in nature but yet still inflamed in exhibit for all to see.
Perhaps for Krim, this flaunt of such private themes of sex, desire and love, which stem from deep within the root of all human nature: is a cathartic move in an attempt to heal her own trauma?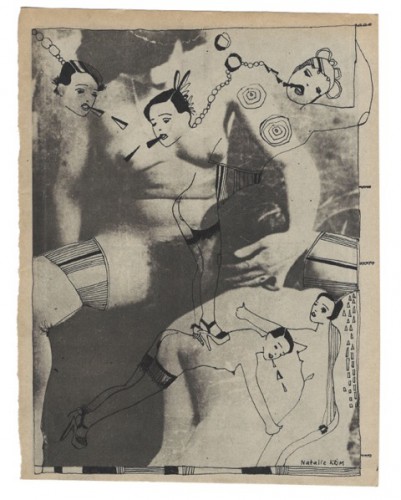 Almost sadistically though, on first instance and when lacking empathetic understanding, it's still undoubtable that the women depicted in Krim's fine lines entice their audience into slipping a hand, or thinking about it at least.
Natalie Krim's first LA solo show because I love you but you're not here is now on view at Little Big Man Gallery in Los Angeles.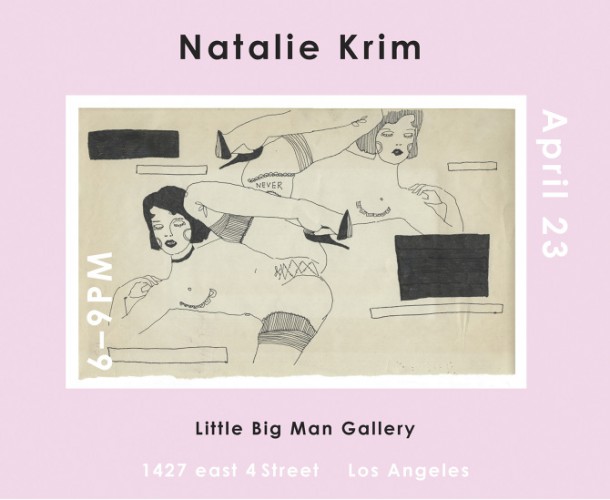 Words: Charlie Fooks
Visitez:
www.nataliekrim.com
www.littlebigmangallery.com/Current-Exhibition