According to an old Native American prophecy an eagle would one day descent from the skies and defeat the devilish black snake terrorising the tribe. This week in an unprecedented move by the US government, the Army Corps of Engineers denied the easement for the crossing of the pipeline through the Missouri river, the prophecy fulfilled itself. The black snake is dead, at least for now.
In October this year, two months before this monumental announcement, when any victory against the Energy Transfer & Partners, the oil company, and DAPL, the pipeline seemed farfetched, I've spent 10 days in Oceti Sakowin camp capturing portraits and the many stories of the so-called water protectors.
Below are some of my favourite characters, stories and photographs I've taken during those ten days. Some which I created a real relationship with. Some I've spent minutes, other hours and other days in order to get a real sense of who they are and what brought them from different parts of the US and the world to oppose the pipeline. Here are my stories from Standing Rock.
Lahumpt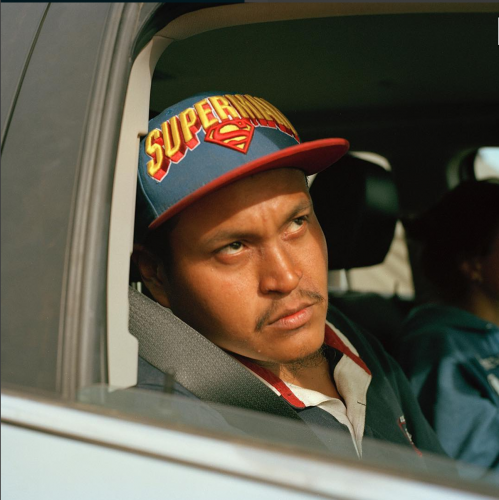 I've met Lahumpt while he was driving out of Sacred Stone camp. I quickly asked for his name and a picture. He said he would tell me an interesting story about his name when he's back. We never met again and he never did tell me that story. On this portrait he was serendipitously watching the surveillance helicopter that constantly hovered the camp. It stroke me how much Native Americans like superhero iconography as I would see many others wearing superhero themed clothing.

Portuguese protector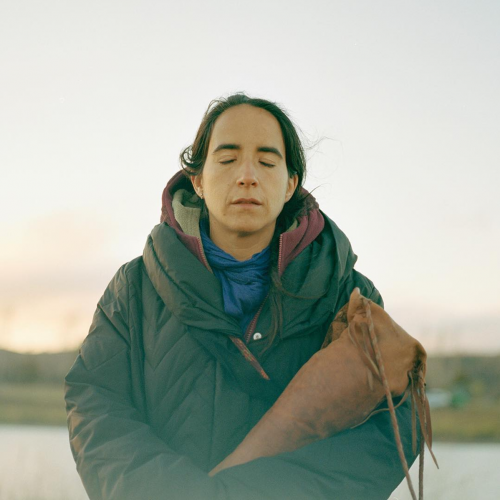 Mariana is not from indigenous background. She's from Portugal. "But something attracted me to this place" she said after I meet her leaving a water praying ceremony at 7am in Oceti Sakowin camp. As I was setting up the camera she closed her eyes for a split of a second and I rushed to capture her introspective moment. Many people like her from many parts of the world were joining the protests. The camp is a magnet to interesting people and interesting stories.

Princess Kerrie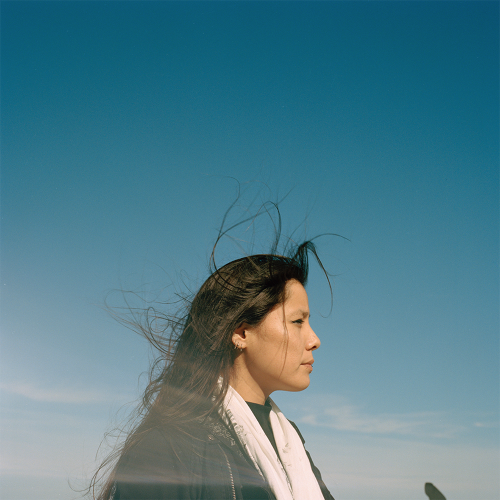 Karrie Fire Crow. Ehsa Da'wuhneh. Buffalo Ear Woman is a princess from Northern Cheyenne territory in Lame Deer, Mt. We've met in the frontline of a protest 20 miles away from Sacred Stone camp and she was kind enough to give me a ride all the way back to the Casino. We talked a lot on the journey and her words echo with me until this day "It's terrifying to realize what the ultimate message of DAPL is. That they will do what they want and we Do Not Matter. Well, they're wrong. It's not right and it's so important that we, as a people, come together and support each other to say: No. We do not want this. We matter."

Batman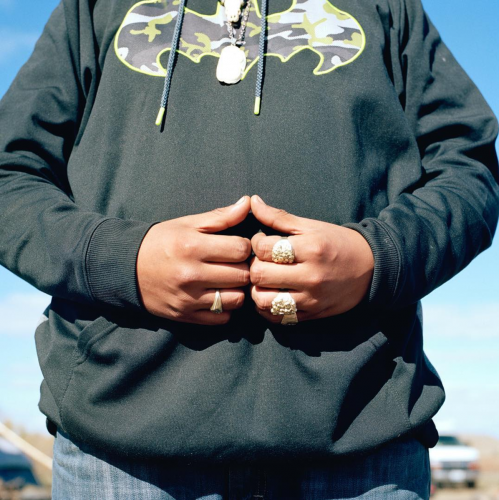 Eriberto, aka Batman is a security man at Sacred Stone Camp. He came all the way from Mexico to support his brothers on the opposition of the pipeline. Bling and gold is really important in his culture, he told me while flashing his gold rings straight at my camera. He told me he learned to appreciate his background and native culture in the camp and that coming to Standing Rock gave him a sense of purpose and kinship he never felt before.

Delwyn Fiddler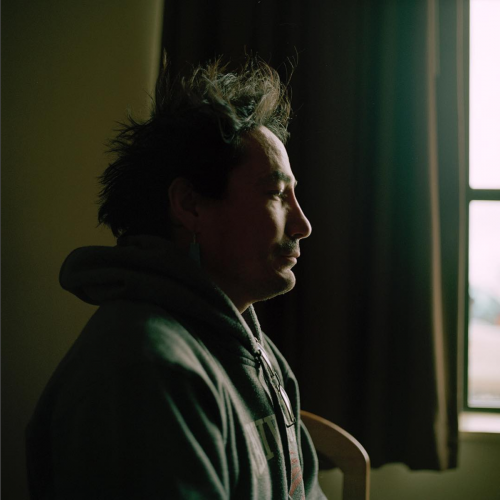 Delwin Fiddler is from Cheyenne River Sioux Tribe, South Dakota. He's a ceremony man and keeper of the white buffalo calf pipe. I've met Delwin at the Prairie Knights casino on a very cold night. I couldn't sleep in my tent and decided to drive to the Casino to warm up and treat myself with free all-you-can-drink coffee. He kindly offered me his room and even played the ceremony pipe to us before we went to sleep. We became good friends that day and hung out for many other days.

Wild Horse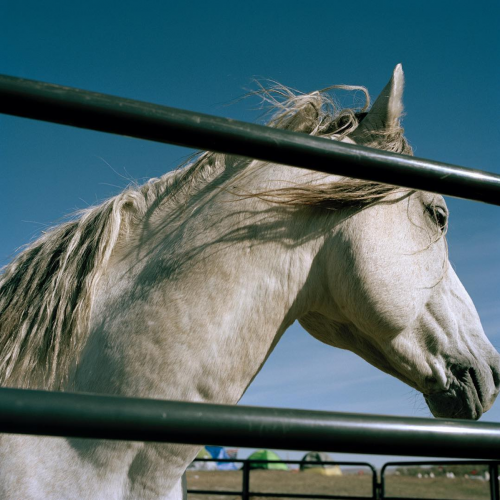 Many warriors bring their horses to camp, riding from as far as Pine Ridge and other parts of the country. The riders told me that to tame a wild horse they have to give them the illusion of freedom by making the rope a bit tighter every day until the horse is on a short rope and finally tamed.

Curly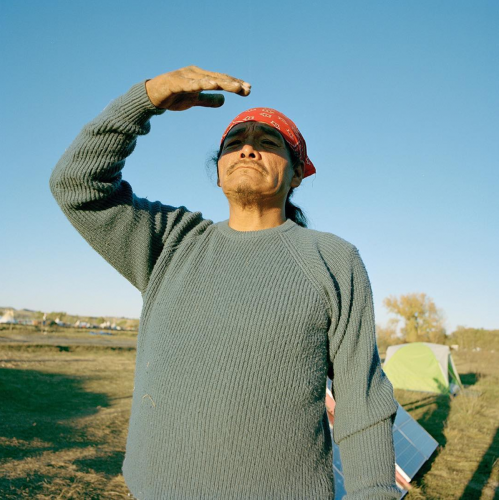 Curly is the head of security at Rosebud, a smaller camp located south of the Cannonball River on Sioux land. We met whilst I was photographing a ceremony and became friends. A few days after I'd left, a bald eagle descending into camp. The bird was with Curly for more than an hour. I still regret missing that moment.

Reservation Kid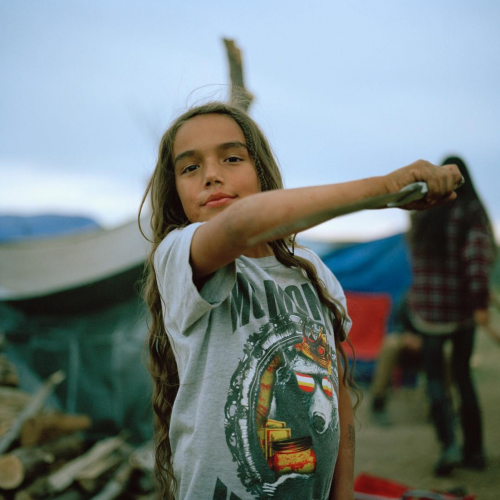 I've met this kid on my last day and my last hour at the camp. He caught my attention because he was playing with a massive knife around the camp. He suddenly looked at me and asked if I wanted to see his other bigger knife. Of course I said yes and he ran inside his teepee and came out baring the knife on the shot as looking straight in the camera. Teenagers around the teepee told me he was a Res Kid, a term they use referring to wilder freer kids raised in reservations instead of cities or towns. He was so young but there was already so much strength in his eyes.

Words & Photography: Mico Toledo

Visitez:
http://www.instagram.com/micotoledo