In the late 1970s, Jean-Michel Basquiat teamed up with Al Diaz to write enigmatic graffiti statements across New York City under the pseudonym SAMO©. Soon he was collaging baseball cards, creating his own clothing, DJing, playing in a band and painting on doors, window frames, and enormous home-made canvases. Today, Basquiat (1960–1988) is recognised as one of the most significant painters of the 20th century. Having come of age in the post-punk underground art scene in Lower Manhattan, he conquered the art world and gained widespread international recognition, becoming the youngest artist ever to participate at the documenta.
According to the big retrospective of BASQUIAT at SCHIRN Kunsthalle, two Frankfurt-based artist with focus on photography present their very own association with art based on graffiti and 'street art' in their hometown. First presenting two young power girls from Offenbach, Theresa and Deborah, and second the FFM Graffiti legend Zorin.

THERESA & DEBORAH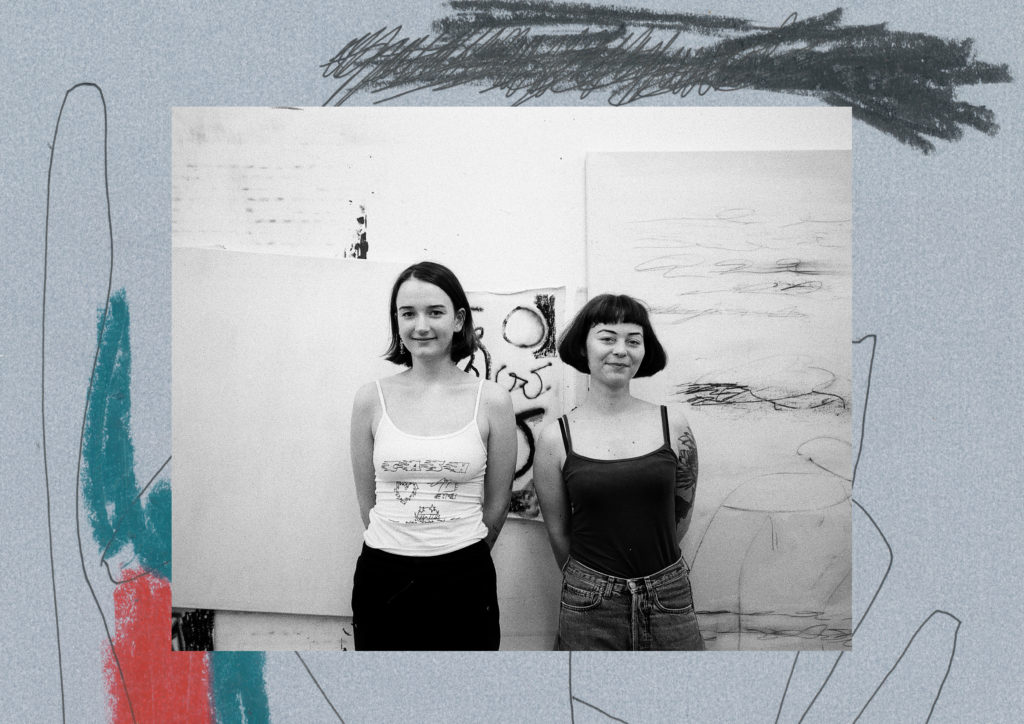 INTERVIEW & PHOTOGRAPHY: AMANDA WEIMER

Hey girls. You two share a studio and study at HfG Offenbach together since two years. Could you tell me about your work and the studio life.
Theresa: My work really got into a vehicle kind of way. Actually I am one of these horse-lover girls, but for last years some girlfriends and me decide to form a feminist girl gang after a men stereotype, and it became a biker gang because we kind of liked the aesthetic. We named it 'ferrum pussy'. I painted 2 big motorcycles in one night and so since then I kind of got stuck on that but I really feel it. Also illustration and typografie are interests that I show in my work.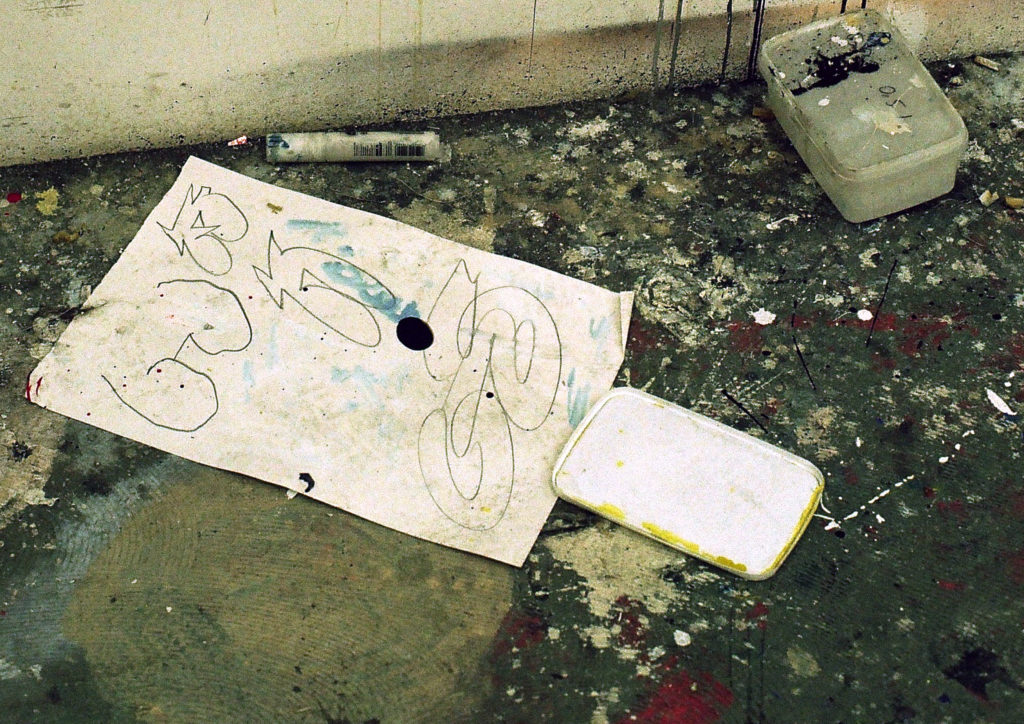 Lately we were part of Frankfurter Hauptschule's video for Städel Rundgang and it was a nice experience to collaborate with so very different artist and find a similarly in the interests.
Deborah: I started graffiti and painting at the same time but since I'm at the university I got a lot of input. Painting is so important to me. It is literally the thing I am really sure about in life, so when I paint I feel save in a way. In the studio I prefer working alone, but also some of the best paintings were produced in night sessions with several people and some beers. The studio is so important for the process, I mean painting at home I would get crazy.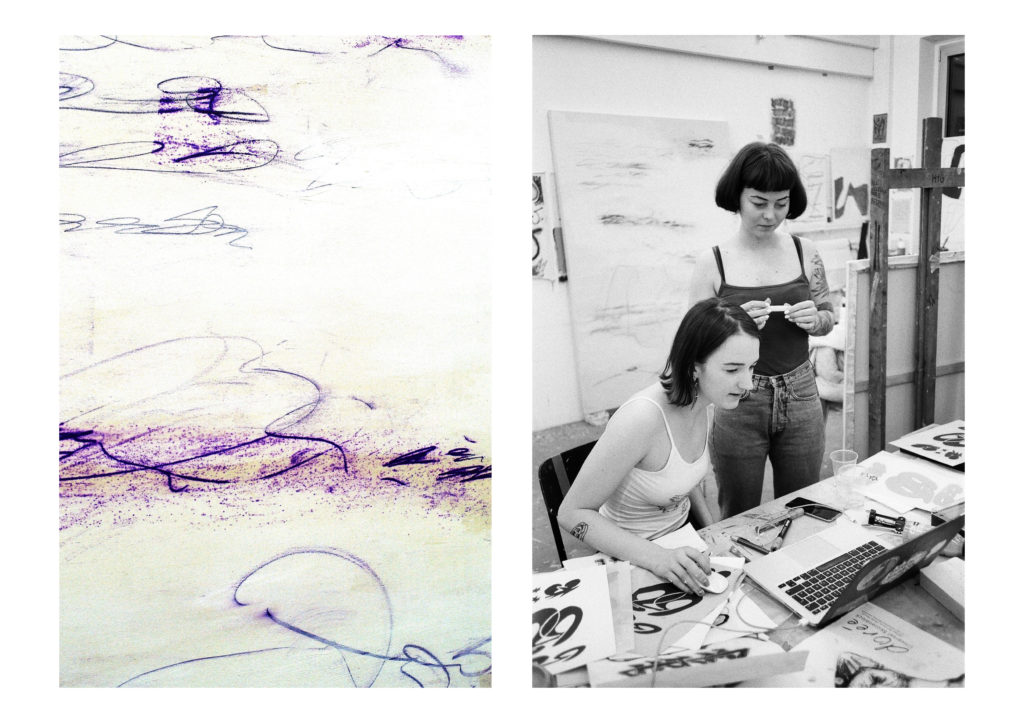 Do Graffiti and/or Tattoo have a big influence on you/your art?
Debrorah: I always was nebulously attracted to tattooed people somehow, maybe thats because they somehow get mystherized. Also many people/ artists I was looking up to were tattooing people and I find this exciting and thrilling.
And for me it was never just a matter that I have tattoos without tattooing myself. A thing that goes hand in hand.
I also use materials like tattoo ink in my work.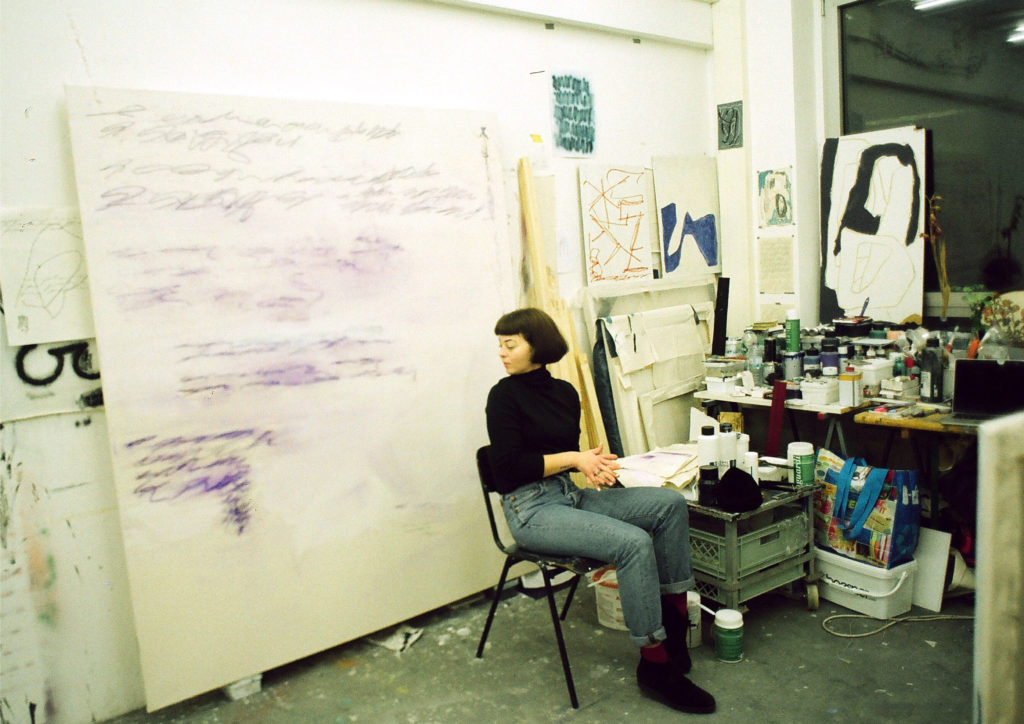 Is Basquiat a thing for you and if not, what are your main inspirations the you respect especially?
Theresa: I dont know him actually…
Deborah: Sure you know him this guy from New York that did graffiti and then art.
Theresa: Maybe some other that had a way like this, especially peace and love crew. For me they are a total outstanding space in the art world.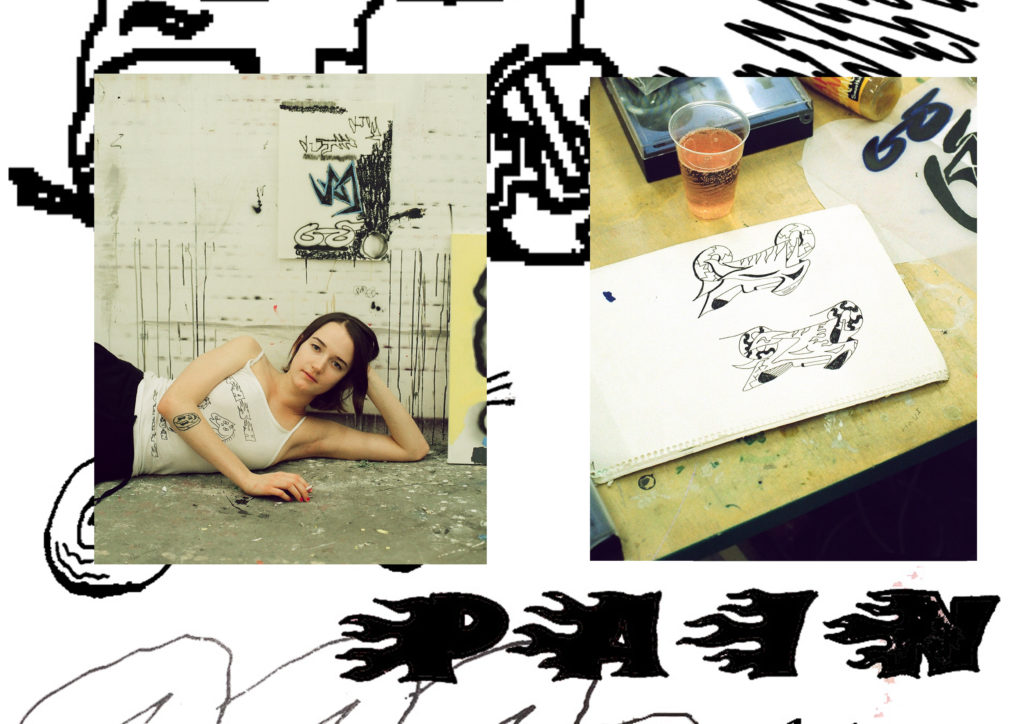 Deborah: Its very difficult for me today because all of the inspiration you can dig on instagram every artist has its account and you can really dig into something, so to not get influenced by something and still keep your own way, thats why I stopped looking at other stuff too much, but still it is really important to watch stuff in real life/exhibitions, galleries, museums.
Last week I did my first travel to Paris, which was reallybig to me because thats where I feel my art belongs to. Artists like Paolo Tomek and Saieo (from paris) they showed me a total new view on art in general. Some of my fave things I saw where the Installations by Neïl Beloufa and from Georges Henry Lonley.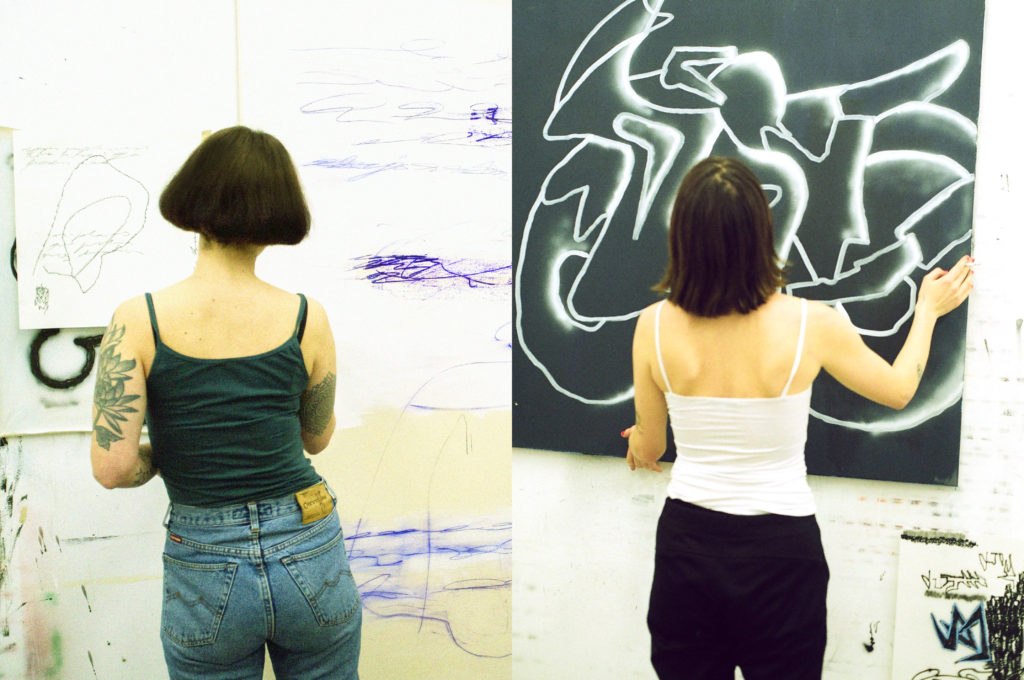 Theresa Weisheit and Deborah Nerlich are showing some work in a double exhibition on Friday, May 25 til Sunday, May 27 at Zollamt Studios Offenbach am Main.


ZORIN

Zorin is one of the biggest names from 90s Frankfurt graffiti. After years of writing he still reinvents himself but also his old styles look fresh nowadays. He keeps his name and his crew CM (City Mission) all over the City for over thirty years.
People used to say sometimes when a hedge get cut in Frankfurt you can find a unknown Zorin piece behind.

INTERVIEW & PHOTOGRAPHY: BÉLA FELDBERG

Hello Zorin. You are one of the biggest names of graffiti in the 90ies in Frankfurt. But writers today still call you as an influence of graffiti nowadays. Can you explain that to you?
Zorin: Thats flattering! I guess I've been able to establish a certain style without repeating myself all the time. I kept Zorin on the streets for over 27 years now and some pieces remained intact throughout the years.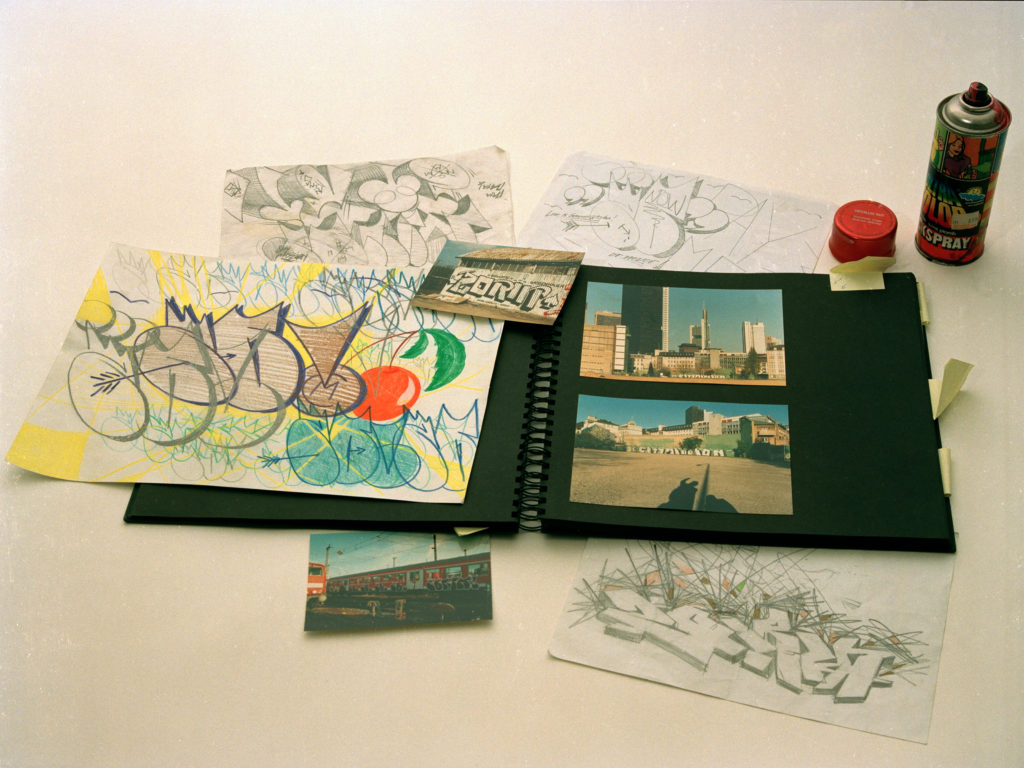 You lived some years in foreign countries and citys. But you always came back to Frankfurt. Can you explain what makes the city special and what makes the Frankfurt graffiti scene special back
than?
Zorin: The city has this 'being small' complex which makes some inhabitants kind of ambitious round here. Which is good also for other cultural reasons. Everybody knew each other back then, the generations being interlinked had mutual respect even the kids coming up in the scene. It's been really nice growing up doing graffiti in Frankfurt.
We had a strong bond that writers from other city's immediately felt when it came to rivalry. Frankfurt has been a tough playground always so there has never been an invasion from outsiders on our system.
Even from the early years on you can tell by the quick pieces done by Chintz in late 80's for an example.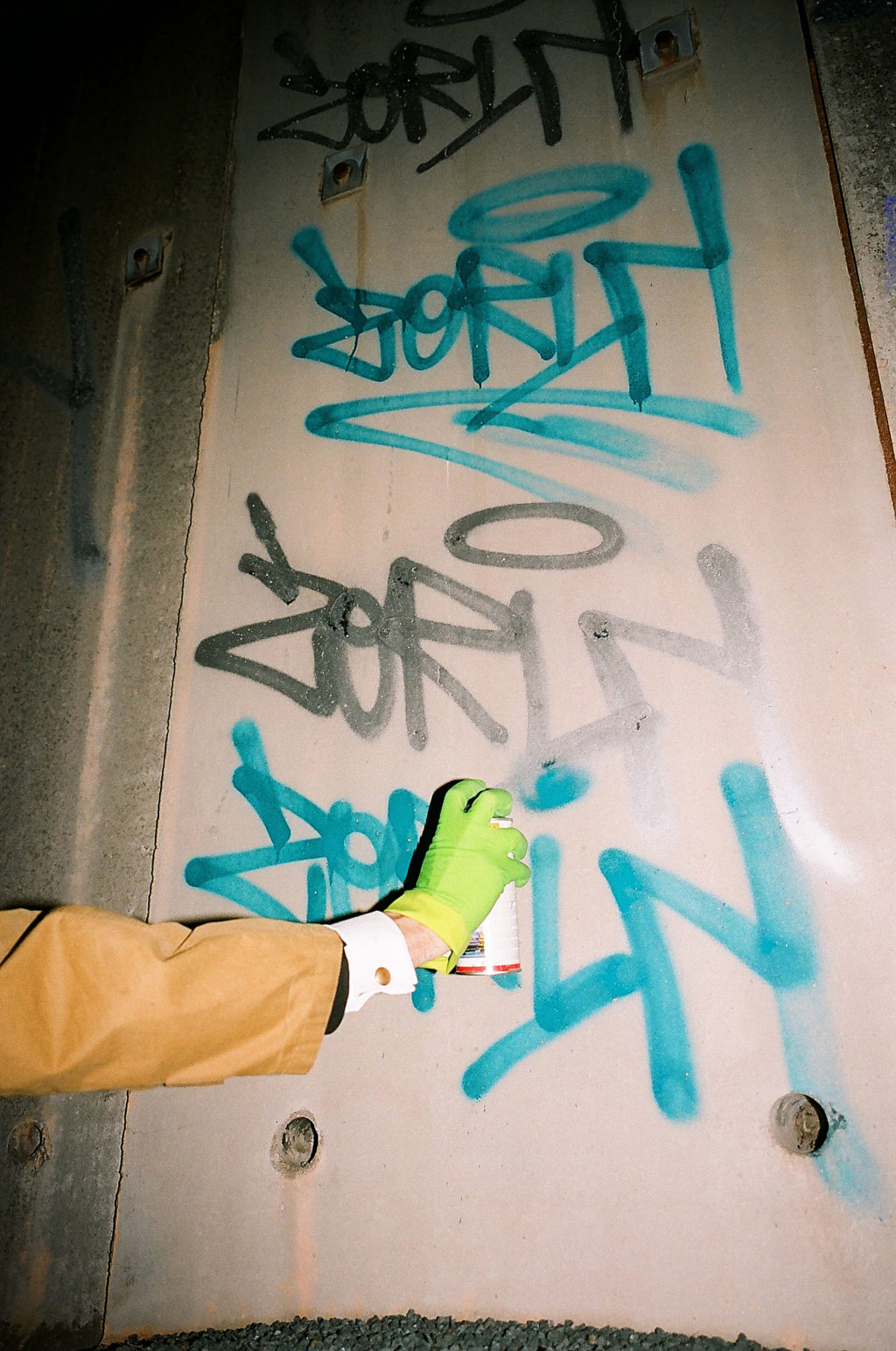 So Basquiat's high times where around the middle of the eighties, a couple of years later you started graffiti. Did he had an influence on your work? And what was the general opinion about his work in the Frankfurt graffiti scene?
Zorin: I started in 1989 (a year after Basquiat died) with a Chernobyl critique piece. I knew about the Fashion Moda Gallery and those writers that had institutional exhibitions back in the 80s. Since then I have the same conception about it – keep it street. I don't know of a single artist that was able to bridge the gap in a clever way.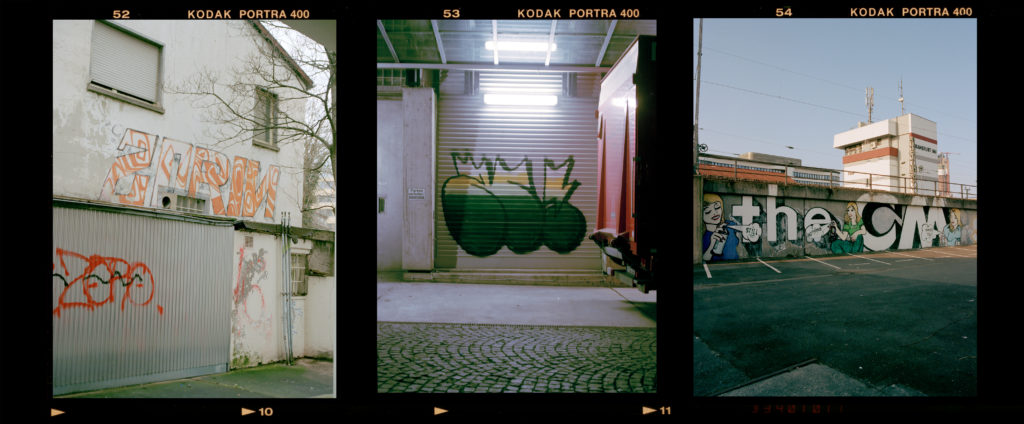 Personally I believe Basquiat wanted to leave his mark in the art world (this might be an attitude acquired from Graff.) especially being recognized as a black artist. In my years coming up as a graffiti writer it had always to do with identifying with the city and the environment
that also formed me so to speak.
In my fine art attempts having representative architecture and the public space as a topic to work on I always drew a sharp line between the disciplines. Until this day I dislike the Graff. like expressions in an exhibition context. Even when the artist is trying to transform the idea through the medium. It's impossible to transmit the sublime of the illegal and thats for good.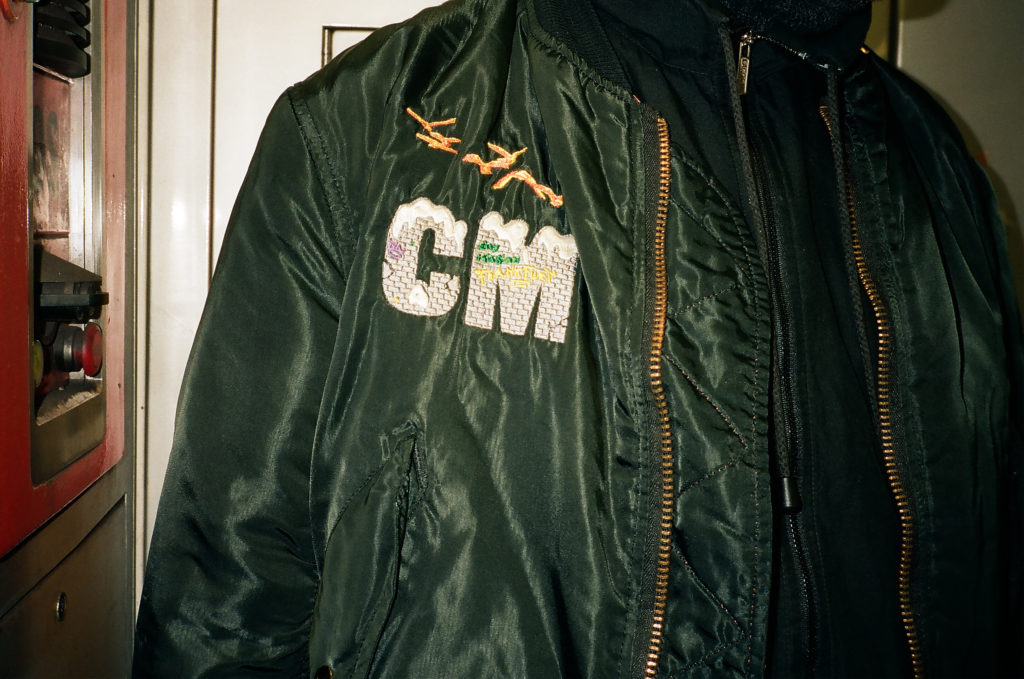 The work of Basquiat is way to often associated with graffiti it definitely had no influence on graffiti and most certainly graffiti just had a little on his. I guess he sometimes played the street card because he was insecure also being an addict manoeuvering in an all white art world.
His work to be seen as evolved from graffiti only is a misconception. Remember me I am the realest Zorin.


Visitez:
www.schirn.de/ausstellungen/2018/basquiat/
https://www.instagram.com/deborahnerlich/
https://www.instagram.com/tattoodebo/
https://www.instagram.com/theresagirl2000/
https://www.instagram.com/tatogirl2000/