Until 2007, Helga Goetze stood in front of Berlin's Kaiser Wilhelm Memorial Church every day for twenty-four years to proclaim her credo. The latest exhibition at Delmes & Zander, Cologne is dedicated to the unwavering provocateur.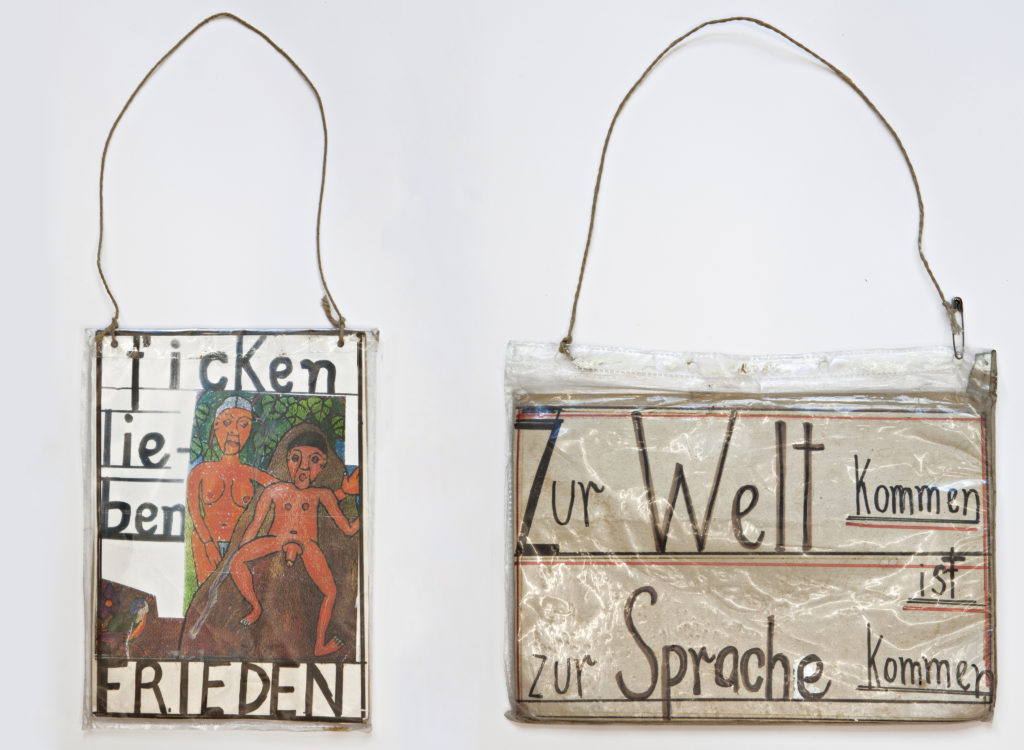 Left: Helga Goetze, Ficken lieben Frieden, undated, (archive # 008), mixed media, cardboard, plastic, 29.5 x 23 cm
Right: Helga Goetze, Zur Welt kommen ist zur Sprache kommen, undated, (archive # 009), mixed media, cardboard, plastic, 23 x 29 cm

Before she became the greatest sexual revolutionary of the twentieth century, Helga Sophia Goetze's life hardly differed from that of her post-war peers. For 33 years she lived the life of a bustling housewife and mother of seven children in a happy marriage to a wonderful man. But it was during a holiday in Italy that she experienced her first orgasm and fell – as she described it – into another state.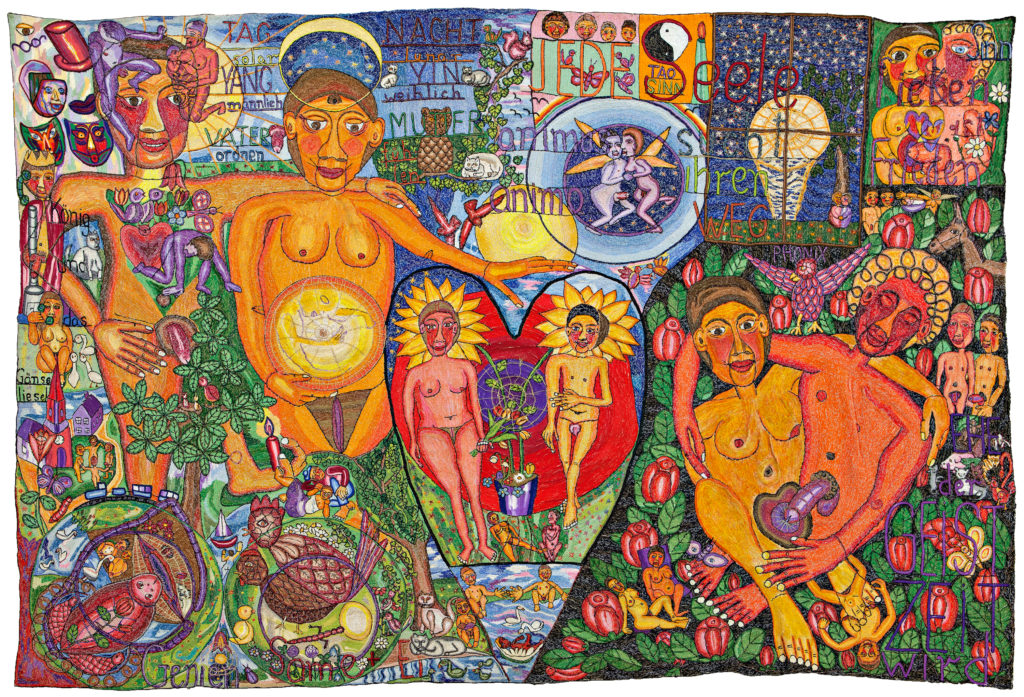 Helga Goetze, Indianische Astrologie, 1984 – 1985, (archive # 001) Embroidery, cotton twist, metal thread and nettle, 126 x 180 cm

Wholeheartedly inspired by this encounter, she started to live her sexuality without compromise and eventually left her husband and family in the early seventies to join the free love movement. She founded the Institute for Sex Information and became actively associated with the cultural centre "Fabrik" in Hamburg, where she acted as a sexual consultant and regularly recited her poetry.


Süßes Schwänzchen, sieh mein Kätzchen
schnurrt und ruft so sehr nach dir.
Denn die Höhle friert allein.
Gib ihn mir, von dir zu mir.
"Sweet little tail
see my pussy purrs and calls so much for you.
Because the cave freezes alone.
Give it to me, from you to me."— Helga Goetze, "Ficken im Mai"
After her move to Berlin in 1978, Goetze relentlessly devoted herself to embroidery, paintings and writing, creating hundreds of canvases and thousands of poems featuring female sexuality, Christian imagery and socio-critical topics. Following the approach "Sticken und Ficken" (Embroider and fuck), the large-scale tapestries she started to make depict her strategic provocation and show sex scenes, bared breasts and erect penises. She began to agitate for sexual liberation and started daily protest in front of the Technical University and the Gedächtniskirche responding opponents with only the finest vulgar expressions German has to offer. "The only word that arouses the Germans is really 'ficken' (fucking). That rhymes with 'beglücken' (to please) and 'entzücken' (to enrapture)."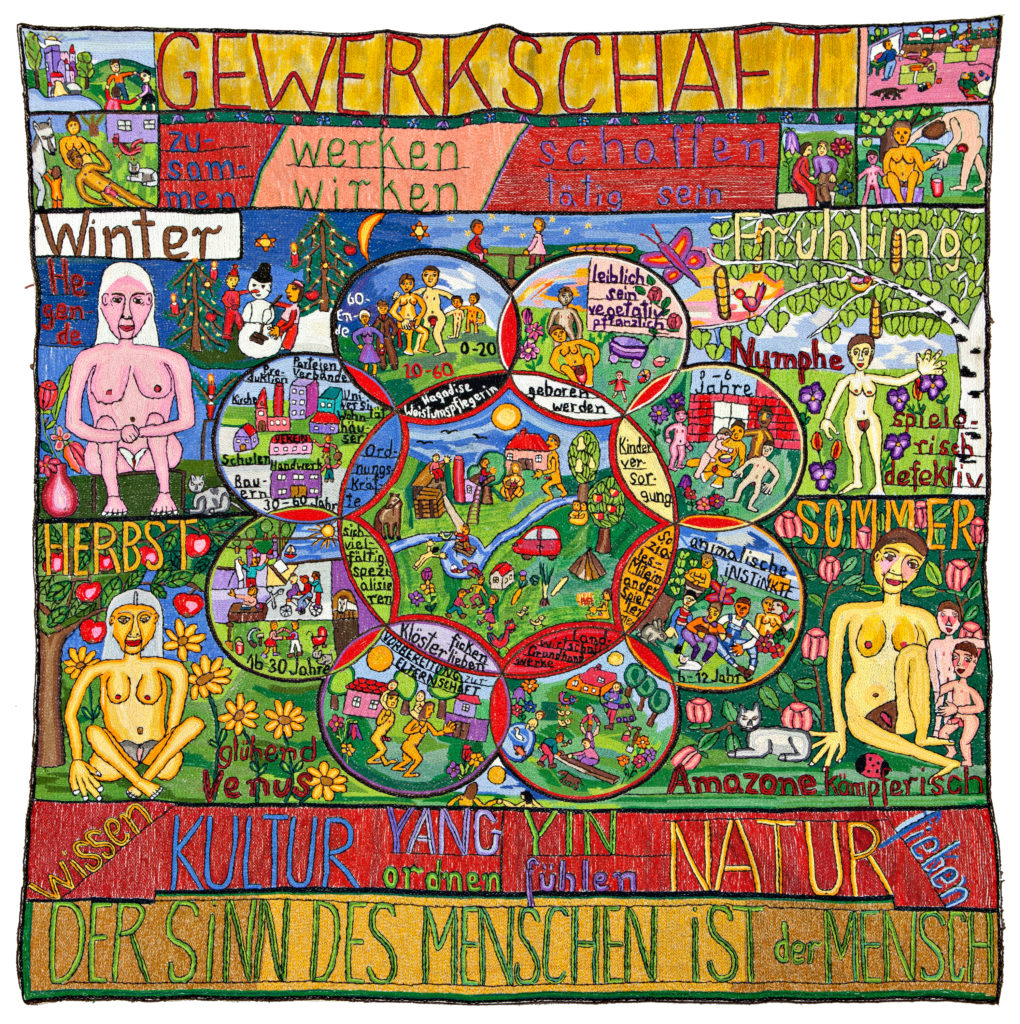 Helga Goetze, Gewerkschaftsteppich, 1989, (archive # 002), Embroidery, cotton twist, metal thread and nettle, 101 x 99 cm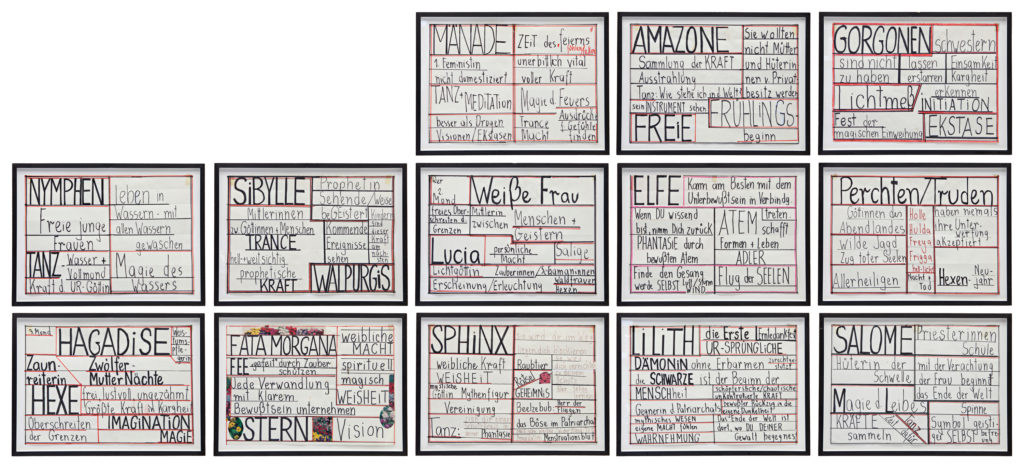 Helga Goetze, Die Göttinnen, 13 parts, undated, (archive # 010), mixed media, paper collage on paper, 29.5 x 41 cm

How to create a different society was the question that haunted Helga Goetze for a lifetime. A society where people matter. To live a life aside from "cooking, cleaning, fucking, raising children". She became a Gesamtkunstwerk and drastically challenged the public debate on sexuality via her various art forms. Goetze tirelessly provoked discussion through various media appearances in TV and film during the eighties and nineties. "People want to be entertained, they want to have fun", she said.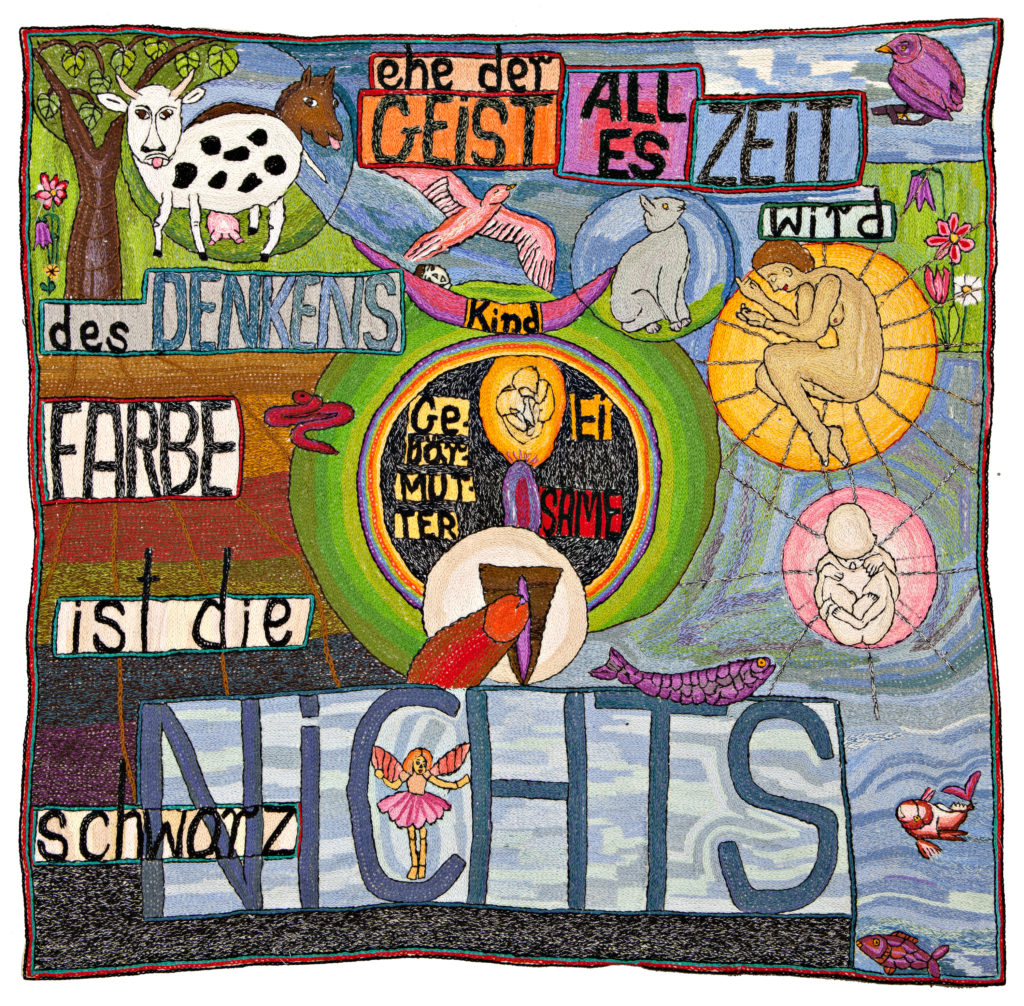 Helga Goetze, Nichts-Teppich, 2001, (archive # 003), Embroidery, cotton twist, metal thread and nettle. 75 x 77 cm

The deliberately chosen formulations and provocations of a woman her age aroused everything from interest to rejection to insecurity. All the more admirable is her courage and her imperturbability. It was not until the end of her life that she received more attention. Her works have been shown in the context of various events, readings and exhibitions in Italy, Slovakia, Switzerland and Germany. "Wichst euch einen, ihr habt sowieso keine Chance" (Jerk off, you have no chance anyway). Helga Goetze – Ficken ist Frieden is on view at Delmes & Zander, Cologne, until October 30th, 2019.

Helga Goetze – Ficken ist Frieden

September 7th – Oktober 30th, 2019
Delmes & Zander
Lindenstrasse 20-22
D-50674 Cologne
Opening hours:
Tue — Fri, 12:00 — 18:00
Sat 11:00 — 16:00
Photography: Courtesy Delmes & Zander, Cologne
Words: Phillip Schmidt

Visitez:
www.galerie-zander.de