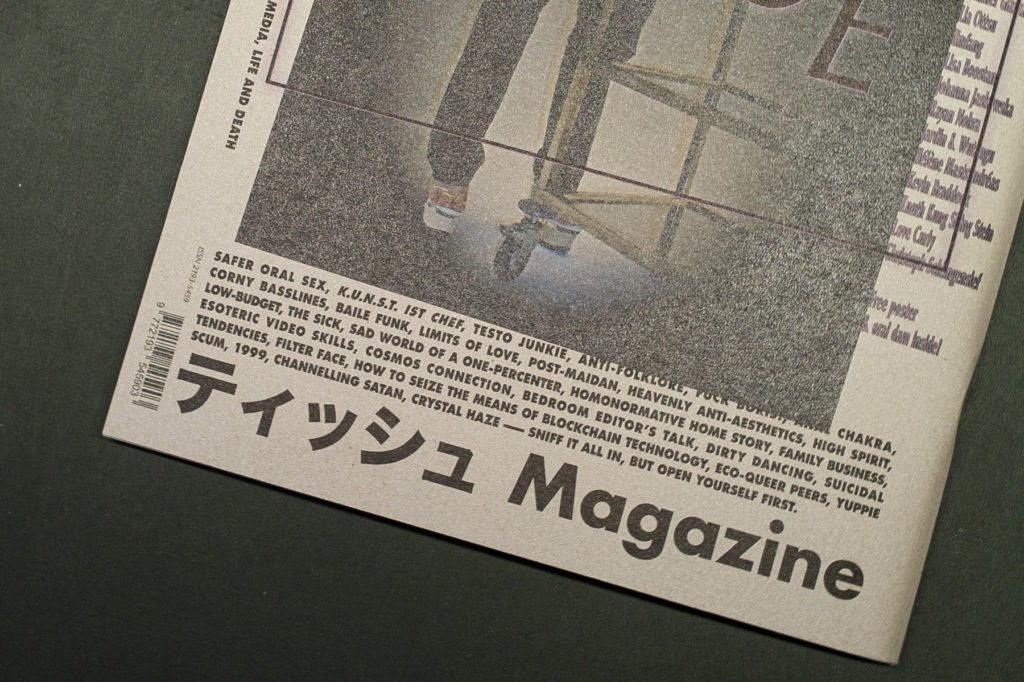 SAFER ORAL SEX, K.U.N.S.T. IST CHEF, TESTO JUNKIE, ANTI-FOLKLORE, FUCK BORIS!, ANAL CHAKRA, CORNY BASSLINES, BAILE FUNK, LIMITS OF LOVE, POST-MAIDAN, HEAVENLY ANTI-AESTHETICS, HIGH SPIRIT, LOW-BUDGET, THE SICK, SAD WORLD OF A ONE-PERCENTER, HOMONORMATIVE HOME STORY, FAMILY BUSINESS, ESOTERIC VIDEO SKILLS, COSMOS CONNECTION, BEDROOM EDITOR'S TALK, DIRTY DANCING, SUICIDAL TENDENCIES, FILTER FACE, HOW TO SEIZE THE MEANS OF BLOCKCHAIN TECHNOLOGY, ECO-QUEER PEERS, YUPPIE SCUM, 1999, CHANNELLING SATAN, CRYSTAL HAZE — SNIFF IT ALL IN, BUT OPEN YOURSELF FIRST.
After five years of a print sabbatical TISSUE Magazine is back – more than ever. The 6th issue of TISSUE is printed in an edition of 666 copies worldwide and is dedicated to the Friday's For Future movement.
It was released in November 2019 in Tokyo, Berlin, Amsterdam and Kyiv is yet to come. This printed publication features contributions by the likes of Kristina Nagel, Jonathan Meese, Michèle Lamy, Wolfgang Tillmans, Adrian Crispin & Ann-Kathrin Obermeyer, Tim Bruening, Lia Ottsu, Heather Glazzard, Nika Arkhiv, Rayan Nohra w/ acte feat. Johanna Jaskowska, Hélène Mastrandréas feat. Jardin et Wutangu, Lisa Boostani, Kevin Braddock and Martin Eder as well as interviews/portrays with/of Christoph Schlingensief, Cecilia Bengolea, Umfang, Linn Da Quebrada, Love Curly and Claire Milbrath of Editorial Magazine plus quintessential topics like depression, crypto mining, sauna trance, free radicals and asexuality.
Each copy comes with a free poster and TISSUE branded oral dam, got perfumed with a special scent developed by DL Roelen and wrapped up in cellophane with love by our own hands.
Get it here: https://store.tissuemagazine.com