Yumi Nagao is sitting on a stool in Shibuya. She's crossing her arms on top of her legs that are crossed as well. Behind her, there's a big shelf filled with selected books and zines. One of them is TISSUE magazine issue number 1. Her look into the camera: Determined. Curious. Yumi is sitting still in the buzzing epicenter of her natural habitat: Her shop Sister in Tokyo.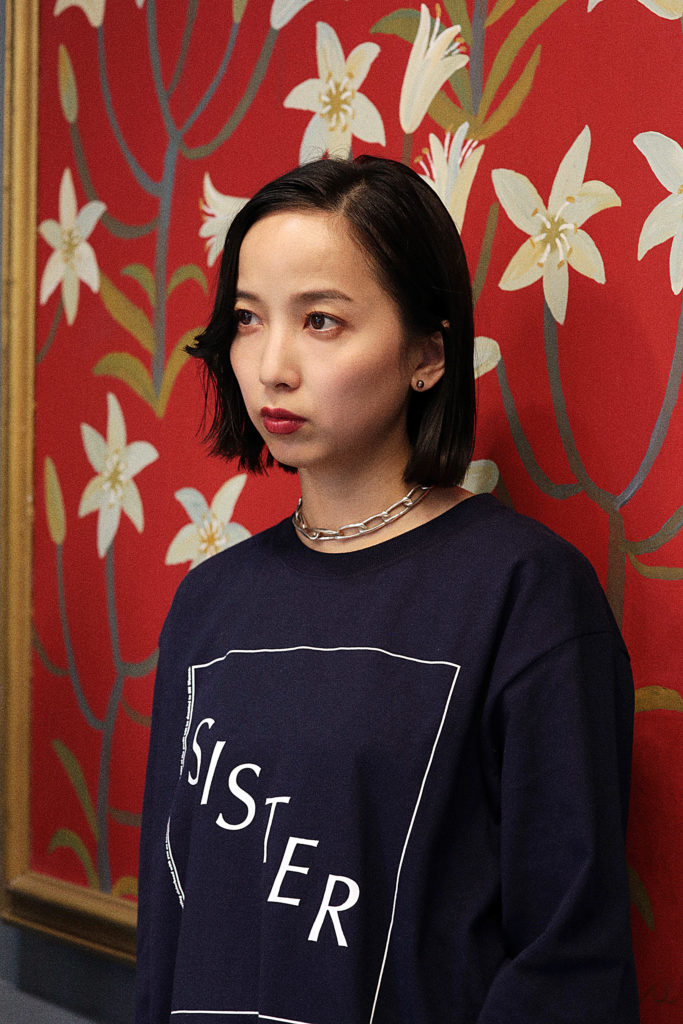 Sister is serving with the latest sought-after supplies of fashion and culture. The concept of the store: Nice things for women, brought to them by women. In 2008, Nagao started working at the shop. Ten years later, she took over the direction. But before making Sister her baby, she was working as a buyer, commuting between New York and Tokyo. How she got her twinsie hand tattoo in NYC is just one of the things she told us, when we interviewed her for our Natural Born series.
A bit more meta than talking tattoos is the main reason for meeting Yumi: International Women's Day 2019. Teaming up with her not only as a distributor, but also as a creative partner and inspirational force, TISSUE created two exclusive designs for Sister in order to celebrate international sisterhood. The collection will be available March 8th at the shop and online. The deal: 10 percent of the revenue will be donated to Women's Rights Advocacy Group. Until the capsule's gonna drop, read the interview below and get to know one of Tokyo's strongest sisters.


INTERVIEW: NADJA PREYER
PHOTOGRAPHY: MANA KOMIYAMA

Growing up in the prefecture of Kagawa, around 600 km away from Tokyo, you left the countryside straight after finishing your A-Levels. How did you get in touch with Sister?
When I was 19 and a trainee, I was working in a second hand shop for a side hustle. During that time, I was sent to the US as a vintage fashion buyer. Even though I didn't do anything for a while after this job, when I met the former director of Sister, he instantly asked me, if I wanted to join him. Of course I said yes. It was a pretty spontaneous decision. After 6 months, when Sister had some financial backup, I suggested to start buying collections of designers I loved at the time. He was also open for this idea, so I went for it.
So you're only selling new stuff now?
No. In the beginning we were only selling vintage, then we switched to new stuff only, until we reintegrated vintage clothing again after 5 years.
What do you want to express with the collection we created together?
What I mainly want to achieve with my work for Sister and also with this collab is, that women start to change their minds when it comes to their own needs and goals in life. I think, women are the ones to do that, cause japanese men feel super happy with their roles in our society. So why should they ever change anything? I guess most women in Japan start giving up at some point in their lives, cause they think "it is what it is". But no: Things don't have to stay always the way they are. We have the right to be treated equal and we need to act, in order to make a change for ourselves.


"I'm aware and happy that there are lots of other types of people besides just men and women"
Why is your shop called "Sister"? Do you have a strictly- female policy when it comes to your employees?
In the beginning, I only wanted to be surrounded by women, yes. Not only because of the name of the shop, but also because I wanted to join forces with other women and build something together. Something that makes us stronger and gives us the opportunity to act autonomously in a male-dominated world. Of course, this is a stereotype, too. But if there would be a male shop person, we would probably have a hard time of giving him anything to do. Cause we want to do everything ourselves! Still, I'm aware and happy that there are lots of other types of people besides just men and women. As a shop director, I meet many interesting people, which inspires me and shows me what's going on in the world. So I don't want to exclude men or anyone. I'm not quite sure, what my policy is for now or if will have one in the future. But I feel that I want to try out new things.


"Not only men keep on feeling comfortable with these roles. Also women themselves seem to give up too fast when it comes to their careers."
The "Pussyboat" was a construction plan for a vagina-shaped boat, made by japanese artist Megumi Igarashi. A few years ago, she had to stand trial in Japan for selling it. At the same time, the whole nation is celebrating Kanamara-Matsuri – a huge, annual ceremony in honor of the penis. Is this ludicrous comparison proof for your country's outdated gender roles?
Yes. Even though Japan is a highly developed country, there are still lots of morals and ideals from back in the days circulating. I think people here want to present themselves open-minded on the outside – but on the inside, they secretly wish to keep the old standards. Also, the japanese government is reacting super slow to these issues. Of course, women are allowed to go to work, but when the time comes to have children, it's predetermined whose role it will be to stay home and raise the kids. I think there's definitely some support missing, that gives women the help they need to be reintegrated into working life after having a child. Not only men keep on feeling comfortable with these roles. Also women themselves seem to give up too fast when it comes to their careers. I am a mother myself, luckily a working one… And when I pick up my children from the Kindergarden, I almost only see women fetching their children.
You have two beautiful twinsie tattoos on the back of your hands. We're not asking for the meaning of them, but please tell us where you got them.
During my work as a buyer, I went to the US every other month for around two weeks. I was rather staying on the outskirts than in the center of the cities. So there wasn't much to do despite going to the cinema or getting tattooed. So me and my crew went to a studio and we all got inked together. It was a super spontaneous thing. There's really no deep message behind them. But one thing that was important for me was that – if I get a tattoo at some point – it has to be an artwork that is related to the body in general.
Do you have more tattoos besides the two in your left and right hand?
Yes. I have two on my belly. An eye and a skull.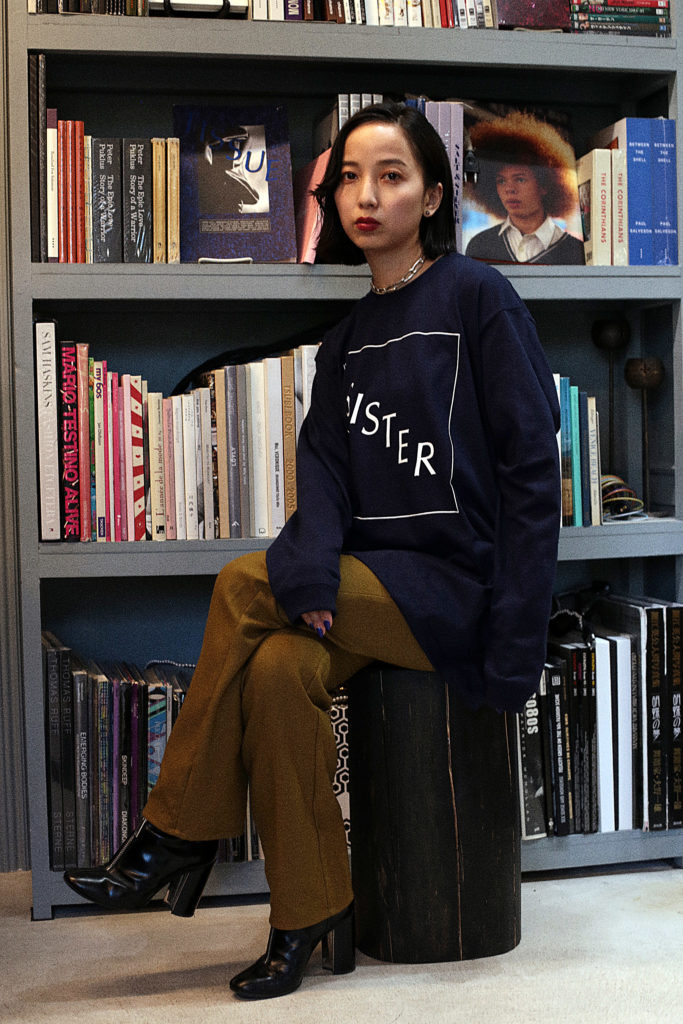 Why did you choose TISSUE as a partner for the collection?
The practical reason was: simply because I didn't want to do it alone. International Women's Day is a day we celebrate change. And change can only be done, if we all join a movement together. So I needed a partner in crime. When planning the project, I was talking to TISSUE because of another thing and suddenly it came to my mind like a flash: We gotta to do this together! I just felt that TISSUE was the right counterpart for this collection. So here we are.




TISSUE Magazine x Sister Tokyo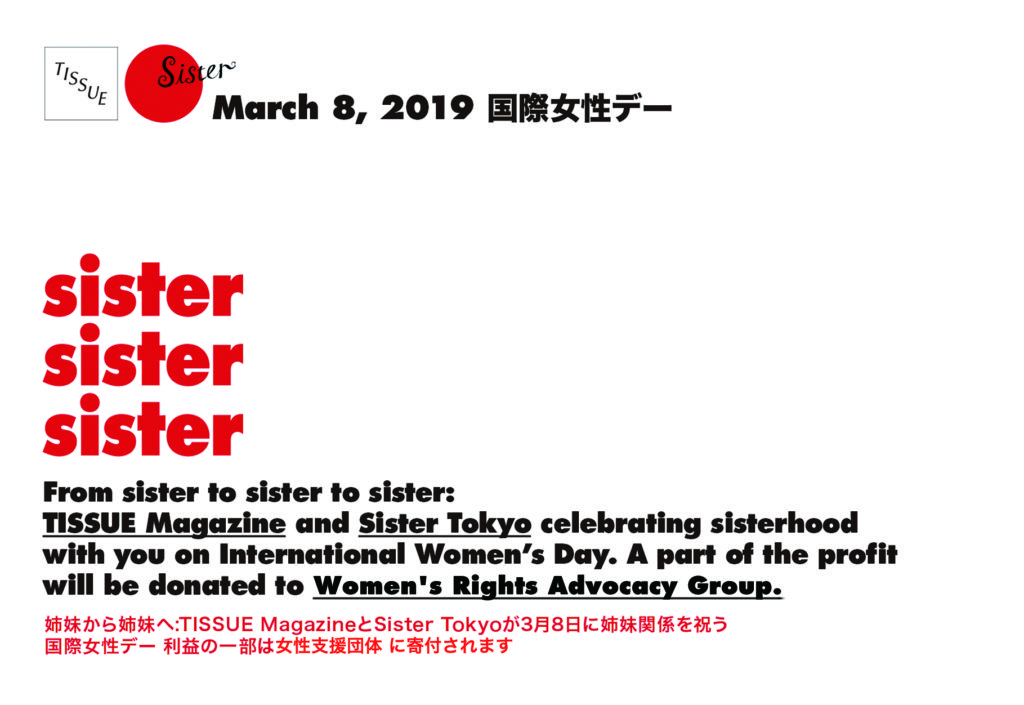 TISSUE x Sister Tokyo capsule collection dropping March 8th, 2019 on #internationalwomensday. 10 percent of the profit will be donated to Women's Rights Advocacy Group.
Visitez:
www.sister-tokyo.com